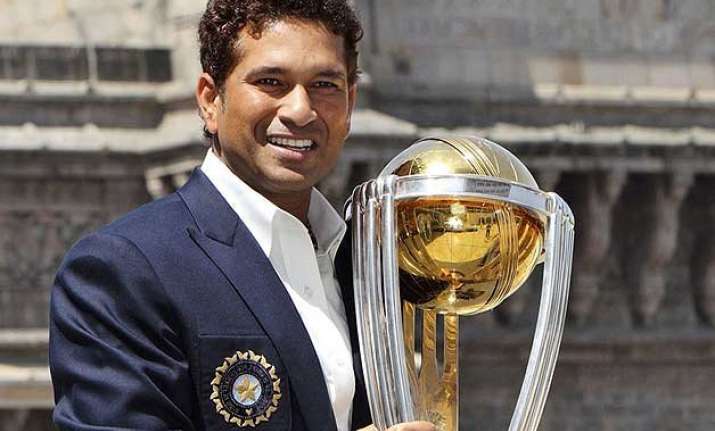 Mumbai: Batting legend Sachin Tendulkar said on Wednesday that he had shed four kilograms thanks to a strict diet which included only boiled food during his preparations ahead of the 2011 World Cup.
The 42-year-old added that during India's tour of South Africa in 2011 just ahead of the World Cup, he had pulled a hamstring and was ruled out of the One-Day International (ODI) series.
During his recovery period, he only consumed boiled food in order to get into shape ahead of the big tournament which was co-hosted by India, Sri Lanka and Bangladesh.
India finally won the World Cup after 28 years at home and the batting great announced his retirement from ODIs.
"I remember in South Africa in 2011 just ahead of the World Cup when we started playing the One-Day Internationals against the Proteas. I had given a big lecture to the Indian team that for the World Cup we have to sacrifice something. And as a team we decided to lose three kilograms each and get fitter. After that I pulled my hamstring and I was out of the series," Tendulkar said during a book launch (Jelly Belly) by author Aparna Santhanam here.
"So I can't run and do exercise and not even give excuses that I couldn't lose weight due to hamstring. In three weeks with whatever limited amount of training I underwent, I managed to lose almost four kilos. It is also to do with mental control and discipline. As and when I wanted to lose weight I always had boiled food," he said.
Recalling the early days of his career, Tendulkar said he did not focus too much on physical training and became aware of the importance of fitness only after coming into contact with foreign trainers.
"When I began my career, I did not attend gym and did not focus on that as a part of my training as such. But as time went time, we were introduced to foreign trainers who had better knowledge and exposure. And as I travelled I started to look at things differently," he said.
Tendulkar praised South African trainer Adrian Le Roux, rating him as the best he had worked with during his entire career.
"The best time in my career I really enjoyed training when Adrian from South Africa joined our team. He never forced us. Whenever you like to, you come to gym. I will monitor you. Training became addiction to me. Even after fielding in hot conditions in Sri Lanka and West Indies, I would go and cycle for an hour after that," he said.
"For every sportsman their body will give them a message that if something is going to be wrong or you are pushing too hard on something. Towards the end of my career I realised there is nothing better that training hard and that is the integral part," Tendulkar concluded.
Currently, Tendulkar and legendary Australian leg-spinner Shane Warne are promoting a Cricket All-Stars Twenty20 series, where high profile players from around the globe will participate in a three-match event in the US.
The All-Stars matches will be played in several cities across the US next month with the first game scheduled for November 7 in New York. The event will then move to Houston on November 11 in and Los Angeles on November 14.
Recently-retired batsman Virender Sehwag and former national team players V.V.S Laxman, Sourav Ganguly and Ajit Agarkar are the other Indians who will play in the US alongside Tendulkar.