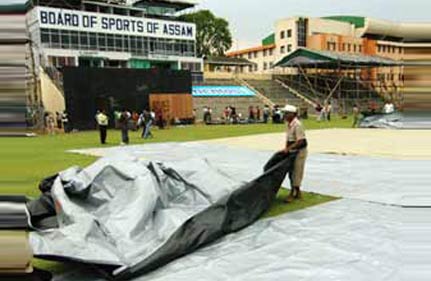 Guwahati, November 26: He was criticised a year ago for an unsporting pitch where Australia dismissed India for a paltry 170, but Assam Cricket Association curator Sunil Barua today said the strip for Sunday's ODI against New Zealand would be the best turf he had ever prepared in his career.
An 8.30 am start coupled with the early morning dew in this north-eastern city might pose some initial trouble for the batsmen but once the sun shines, it will be lively and sporting wicket at the Jawaharlal Nehru Stadium, Barua said.
"I know there were a lot of criticism last time. I don't want to talk about that. I can just say, it will be a lively and sporting wicket," Barua told PTI.
"There will be a good total if a team bats the full quota of overs. This is the best wicket I've ever made. It will suit batting," he said, without predicting any score.
In the last match which was played here on November 8 last year, India collapsed to 27 for five before being skittled out for 170 by Australia, who registered a easy six-wicket win to clinch the series.
Barua said he had given a top-dressing of the pitch with a special clay collected from outside so as to ensure less wear and tear.
He also said that being a multipurpose ground, where the Bordoloi Gold Cup football tournament was held recently, one should not expect a smooth outfield.
Asked about the uneven grass, he said, "It's a multipurpose ground and we got about two and half months time to prepare this. The groundsmen have done a good job."
One hour before the start of play on Sunday morning the groundstaff will rope the field and supersoper will be pressed into service to dry out the dew.
"It takes about 30 minutes to clear the dew," Barua, who is handling the wicket since the stadium hosted its first ODI in 1983, said. PTI