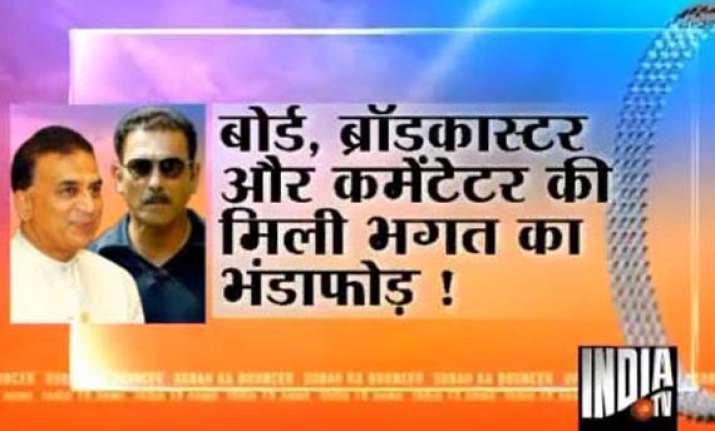 New Delhi, Aug 6: Last week, ESPN-Star commentators Nasser Hussain and Ravi Shastri got into a verbal spat which was heard by millions around the world. When Shastri, opposing the contentious UDRS (umpire decision review system), attacked the former England captain, an exasperated Hussain finally said that he was paid by the channel to HAVE an opinion.

What remained unspoken was the cricket establishment's biggest open secret that Sunil Gavaskar and Ravi Shastri are hirelings of the Board of Control for Cricket in India (BCCI) who toe its official line. When they speak you are likely to get, not independent opinion, but what the BCCI wants you to hear, says a Times of India report.

It can now be revealed that the two respected opinion makers have been contracted by the BCCI for an annual fee of Rs 3.6 crore each to spread the Board's gospel - on issues such as UDRS, IPL, or umpiring decisions that may be adverse to Indian interests. "They cannot say anything that goes against the policy or interests of the Board," said a senior BCCI member.

BCCI contract stipulates that any channel which is telecasting an international match on Indian soil will hire these two men on their commentary team. A similar contract, for a lower fee, had been signed with Harsha Bhogle too but was subsequently cancelled because then IPL commissioner Lalit Modi had not taken permission from the IPL Governing Council.

"Yes, both Shastri and Gavaskar are employed with the Board as commentators," a top BCCI official confirmed to Mumbai Mirror. "This pertains to all BCCI-owned cricket - international matches held in India, the IPL and the Champions League. We tell the TV companies that they have to take them on board as our official commentators."

When contacted, both Gavaskar and Shastri accepted they were centrally contracted by the Board, but did not see this as a conflict of interest, or as something that hampered them from freely airing their views.

"In fact it helps me," Shastri said, "because now I get to see both sides of the coin before saying something. It's left for the viewers to judge whether I am biased or shackled, and the viewer is no fool."

Shastri said he had his own personal views on DRS, which "just happened to be the same as the BCCI's", and that he believed Ian Bell should not have been recalled by Dhoni during the Trent Bridge Test match. "You have to see my body of work over 20 years. It doesn't matter who pays me. I have strong views on cricket which I express freely. If others are offered Board contracts, they should sign up as well," he said.

Gavaskar, meanwhile, said the BCCI had taken over a contract he had with World Sports Group, following their public differences over IPL rights. "But I don't think there is an issue at all. I always speak my mind, and I'm always honest on air. I am not under instructions from anyone that I shouldn't talk about this or talk about this," he said.

Asked about criticism that he was so pro-BCCI and pro-India that he lacked objectivity, Gavaskar said: "I don't react for the simple reason that everybody is entitled to their view. I'm quite happy to receive criticism that is constructive and am happy to improve. I would love to be Richie Benaud, but I know I can't be. I don't toe the BCCI line. Maybe I don't sound as critical as I did 20 years ago, but I think that is an age thing. The words you use when you are younger are different from the words you use when you get older."

When asked specifically about a conflict of interest, Gavaskar said: "Every person who does a job faces some conflict of interest or the other. There are many people who work for employers whose practices they may not agree with but they don't quit their jobs because of that. Anyway, I don't really think about it as a conflict of interest because every time I comment, I am being completely honest."

Reacting to the revelation, respected media commentator Santosh Desai said: "There is no business for such people to be in the commentary box. But the scenario is hardly surprising, considering the BCCI works like a banana republic for which conflict of interest has never been an issue; in fact it actively creates them. I see this as a larger nexus between the Board, the commentators and the TV broadcasters. The onus has to be on individuals, especially if they are iconic sportsmen, to set an example and not become part of this co-option for personal gain."

Other commentators that this newspaper spoke to expressed unease at the arrangement but refused to speak on record for fear of creating animosity in their small, privileged pool. However, one of them revealed that he makes it a point to mention in his CV that he's not contracted by the BCCI, and therefore brings with him an "unbiased" and "honest" opinion.