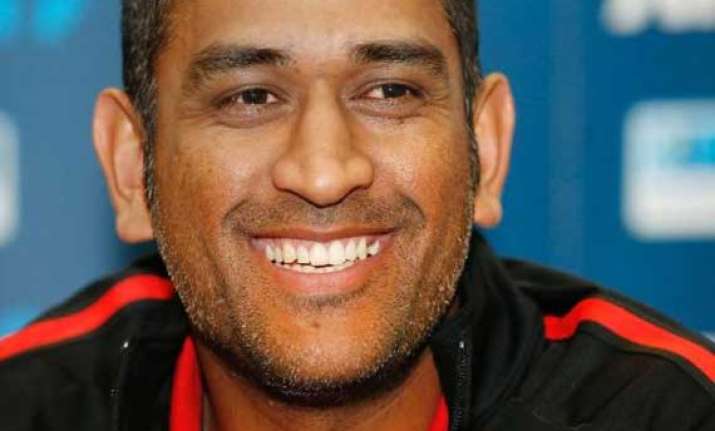 Wellington: India frittered away a golden chance of winning the second Test against New Zealand but skipper Mahendra Singh Dhoni inexplicably continued to defend his listless bowlers and even found the team's display during the winless tour as "quite a good performance".
Dhoni, who has invariably come out with bizarre explanations for the team's shoddy performances at press conferences, again ignored to dwell on the bowling frailties and came to the rescue of his "fantastic" bowlers who gave away 680 runs in second innings, saying that they bowled "in the right areas".     
Summing up what has turned out to be a disastrous tour, Dhoni said he was disappointed with the ODI results as they failed to capitalise on situations but was more satisfied with the performance of his "young" team in the Test matches.     
"Overall, quite a good performance. We have been improving right from South Africa. We have shown that we are a side that's very talented," said Dhoni.     
"We did well in the series, in this Test because we fought back pretty well ourselves. We bowled the right areas, which I think is very important on the flat wickets," he said.     
Having bundled out the Black Caps for 192 in the first innings and taken a 246-run lead, India looked like winning the second Test, as they reduced New Zealand to 94 for five in their second innings.     
But Brendon McCullum (302) staged a remarkable fightback and together with BJ Watling shared a world record partnership of 352 runs for the sixth wicket to take the hosts to safety.     
"In the first Test our second innings was brilliant. And then we came here won the toss and bowled really well in the first innings. In the second innings also we got a good start till Brendon and Watling came in. I don't think it was bad bowling but it is just that they kept the good deliveries out," the Indian skipper explained.     
"Appreciate what Brendon and Watling did, soak up the pressure when we were bowling well and score freely once the bowlers were tired," he said.
Despite the bowlers failing to wrap up the innings after reducing the New Zealanders to 94 for five, Dhoni chose not to be too critical.     
"We had to field for two and a half days and I must appreciate the way the bowlers took the challenge. Even when the third new ball was taken, they ran in hard and looked for wickets. They were willing to go on. I think they did whatever they could. At the end of the day we will accept the result.     
"We cannot always put pressure on our batsmen and bowlers, saying that they did badly. It was fantastic to see how our bowlers bowled, especially the fact that when they took the second and the third new ball, they put in a lot of effort," he insisted.     
Dhoni praised his counterpart McCullum for his triple-hundred, saying that his side tried everything to get him out but couldn't succeed.     
"We bowled for two and a half days. We tried everything -- all fielding positions, three new balls -- and after that you have to appreciate that they batted well. We had to break that partnership (between McCullum and Watling) to get to the lower order batsmen.     
"When you bowl to a set of batsmen for two days, you try everything from catching in slips to catching cover to deep square leg to deep point to bowling on pads to bowling outside off. Sometimes it works and sometimes it doesn't work," said Dhoni.     
"They kept on playing, and playing 500-odd deliveries itself is very tough, forget the amount of runs scored. It was one of the good innings we saw," he said.     
Asked if it was a lack of killer instinct on the Indians' part to not able to seal the match then, Dhoni replied: "We were trying. It is very difficult to pinpoint one thing. To maintain pressure, it becomes very difficult with a three fast bowlers and one spinner combination. That was one area where our fast bowlers did really well. They were able to hit consistent line and length throughout.     
"We bowled close to 200-odd overs and still they were able to hit the same spot with good intensity, which itself means a lot."