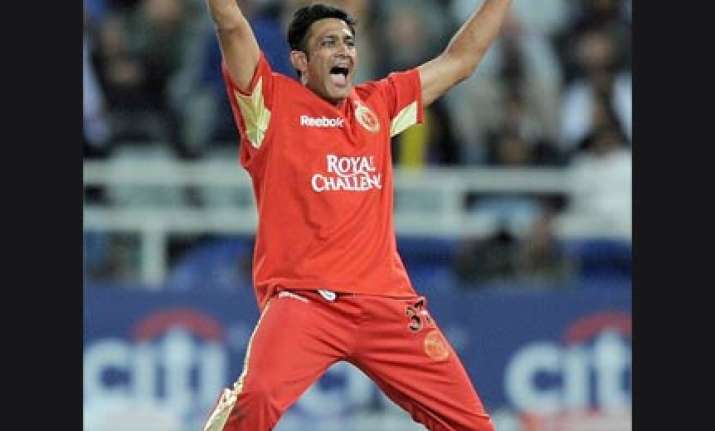 His team on a roll following two back-to-back victories, Royal Challengers Bangalore skipper Anil Kumble feels Saturday's Indian Premier League clash against Mumbai Indians in Mumbai as a very crucial tie. 
"It's a very important game. We know the Mumbai Indians have done exceptionally well in their two matches so far. Our team is full of confidence (going into the match)," said Kumble on the eve of the tie that will see him cross swords with home team captain Sachin Tendulkar. 
Kumble was happy that while his batsmen clicked in the eight-wicket win over Kings XI Punjab, the bowlers mastered the challenge thrown by Rajasthan Royals in Thursday's  clash which the RCB won by 10 wickets. 
"Our batsmen were exceptional against Punjab and our bowlers were exceptional against the Royals. To restrict Royals to a score of 90 in yesterday's game was an exceptional performance. It was a perfect bowling performance from our team," said the leg spin great. 
But Kumble was wary of the bowling line-up, in which Praveen Kumar got a hat-trick and he returned fantastic figures of three for nine, could repeat the show against the strong MI line-up. "I am hoping our bowlers can repeat the show. But the ground here is small, the outfield is fast and the wicket good," he said.
The champion bowler, who has retired from international cricket, said he was looking forward to Saturday's match and hoped he would not have to bowl to master batsman Tendulkar. "Sachin Tendulkar is the key for Mumbai Indians. I hope I don't have to bowl to him," he said. After two wins at home, Kumble wanted to win the away game. "We have won two games at home and now want to win tomorrow's away game too," he said. 
The former India captain was also happy with the start his openers Manish Pandey and Jacques Kallis provided in Thursday's match. "In any form of the game the start is important and Manish Pandey and Jacques Kallis gave us a fine start in yesterday's game," he said. Kumble said it was a challenge to defend even a total in excess of 200 in this format.
"T20 format is such that the bowlers have a big challenge to defend even 200-plus totals. The batsmen go after the bowlers and even 215 or 218 may not be enough," he noted. 
Kumble did not read too much into the injuries sustained during the event by key Indian players -- captain Mahendra Singh Dhoni and opener Gautam Gambhir -- ahead of next month's World T20 in the West Indies. "It's going to be a short lay-off for Dhoni and Gambhir. I don't think there are concerns," he said. PTI