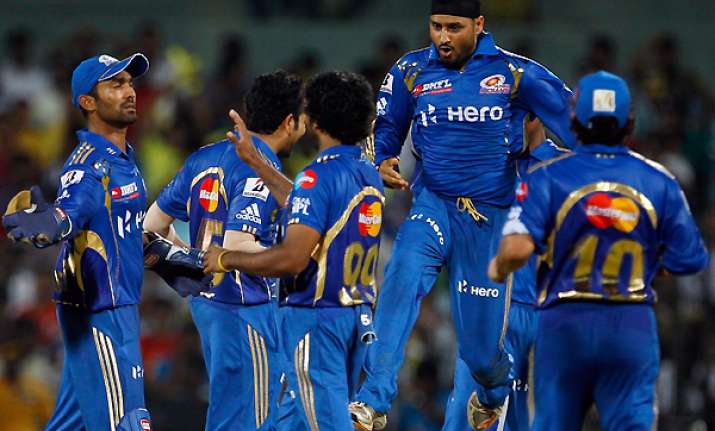 Mumbai, Apr 5: Buoyed by a comprehensive eight-wicket win over defending champions Chennai Super Kings, Mumbai Indians would be eager to continue their winning momentum when they take on a new-look Pune Warriors in their IPL match at the Wankhede Stadium here tomorrow.
The season opener could always be tricky and the Super Kings found that out at their home venue yesterday, even as Mumbai Indians started on a very confident note and that should give the Mumbai outfit a clear edge in the match against the Sourav Ganguly-led Warriors.
Their bowling and fielding were top class against two-time champions Chennai and it is difficult to visualise a victory for the Warriors if Mumbai can repeat the show.
Harbhajan Singh, who took over the mantle of the Mumbai outfit from Sachin Tendulkar after the latter relinquished it ahead of the start of the tournament, led the team in an aggressive style and that also turned out to be a big bonus.
Team's new recruit South African Richard Levi also started impressively with a 35-ball 50 on his IPL debut to clinch the man-of-the-match award.
Two other foreigners, who are expected to play all the games—Sri Lankan Lasith Malinga and West Indian Kieron Pollard—were also in the thick of things with the ball.
The only worry ahead of tomorrow's game is the finger injury sustained by Tendulkar when he fended at a lifter from leftarm pacer Doug Bollinger and retired hurt.
"It was good toss to win, wicket was quite unpredictable, not the same wicket that we played earlier, all the boys played well and Levi played terrific," said Harbhajan.
Harbhajan also noted the outstanding work on the field by his team, effecting three run-outs to halt Chennai's progress.