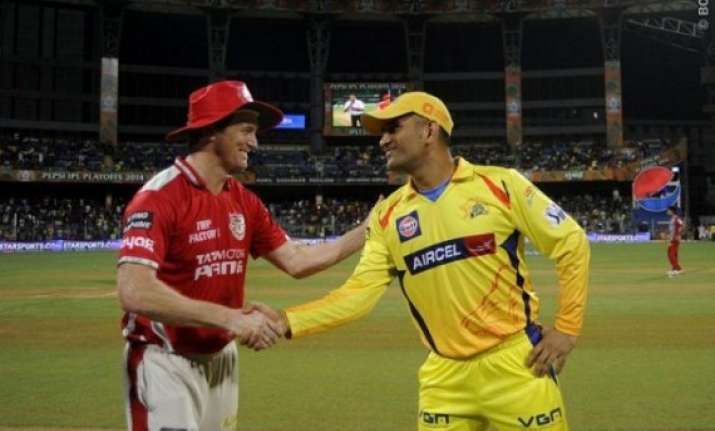 Hyderabad: A keen tussle is on the cards as Chennai Super Kings (CSK) take on Kings XI Punjab in the second semifinal of Oppo CLT20 here Thursday.
Kings XI Punjab, who topped group B by remaining unbeaten, is aiming to continue their winning streak against CSK.
With the big hitters in its line-up, Kings XI will be looking for the fourth consecutive win against Dhoni's team this year.
CSK, which lost its opening game in this tournament against Kolkata Knight Riders (KKR) at the Rajiv Gandhi International stadium, is hoping for a reversal of fortunes.
With the batting of both the teams looking strong, the fans may expect fireworks from the big hitters.
Kings XI captain George Bailey, however, doesn't believe that the bowlers will be redundant in the match.
"I don't think it's batting group versus batting group. The bowlers will be just as important, probably more important," he said after the team's practice session.
He feels that the team needs to play the best with little luck. "We've got four wins from four that's a good start in terms of the tournament. Once you're in the knockout stage you need to play your best with a little luck," he said.
"Just the same, play as well as we can. Even if we have plans we're not going to lay them for you on a platter. I think we'll play as well as we can with a bit of luck," Bailey added.
The Kings XI skipper agreed that there will be pressure as it is a bigger game and a knockout game.
"If players are under pressure, it's because they put themselves under it. It's just another game in terms of preparation and the way they execute as groups."
Bailey believes that the team needs consistency. "One of the pleasing things form our group stages is we've been pretty consistent. So if we can maintain that and it then comes to winning key moments big moments in the game," he added.
The captain said their fielding is as strong as that of CSK. On the absence of Mitchell Johnson, he said this has given Anureet Singh an opportunity and he's been fantastic.
Bailey said: "It's also given Tushar an opportunity so I think it's changed our structure a bit. I think it's certainly been a benefit having TP (Thisara Perera) coming in the batting order, gives us a touch more depth not that we're short on batting. And we've been pleased with how it's gone for us."
"One of the big challenges for us coming out of IPL was our death bowling and that was a challenge laid out to our bowlers at the start of the tournament and I've been proud of the way Anureet's grabbed that and made it his own, certainly as far as this team goes," he added.