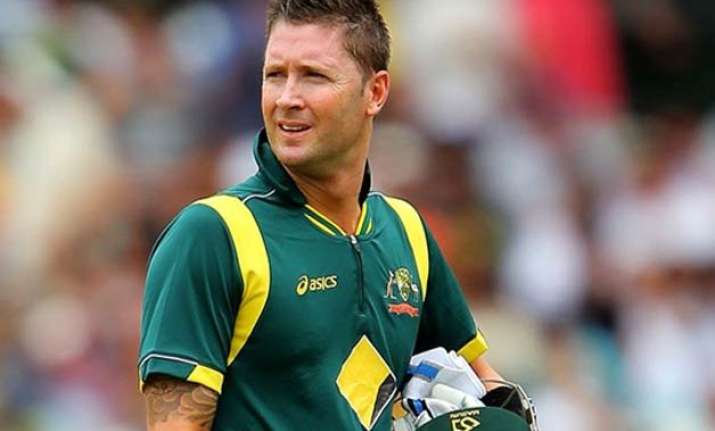 Melbourne: A month after admitting he may not play cricket again due to injuries, Australian captain Michael Clarke has dismissed suggestions of his retirement after the upcoming World Cup, saying that he can continue playing till the 2019 edition of the tournament.
Injuries to both hamstrings and his lower back had placed his career in jeopardy last month and he had conceded after the first Test against India in Brisbane that he may never play again.
Clarke was subsequently named in Australia's 15-member squad for the World Cup beginning February 14 and asked to prove fitness by February 21.
But, Clarke said he was confident that his problematic hamstrings would heal and he would continue playing, scoffing at speculation that his retirement may be imminent.
"It's funny, a lot of people have said or thought Michael is going to retire at the end of this World Cup. I'm sure I am going to retire at the end of a World Cup, but I don't think it's this one," he said.
"I'm 33-years of age, look at someone like Brad Haddin who is 37 and still loving his cricket and contributing to the team. I don't see any reason why I can't play in the next World Cup," Clarke was quoted as saying by 'Daily Telegraph'.
In a positive signal about the Australian captain's physical and mental shape, Clarke returned to the SCG nets and intends to increase his workload with the pads on again today.
"The boys are playing at the SCG so I'll go and bat again. It will be restricted, but I'm hoping I can just continually build it up over the next few weeks," Clarke said.
"I'm going to struggle for the first game of the World Cup. The reason I can say that in advance now is because the surgeon feels there's a certain time frame my hamstring needs before he feels comfortable," he said.
"At the moment I'm following the Australian medical staff rehab program but a lot of that is dictated by the surgeon. I'm flying to Melbourne on Saturday to see the surgeon on Sunday. Time-frame wise I'm really confident I'll be right to go at 100 per cent in the not too distant future.