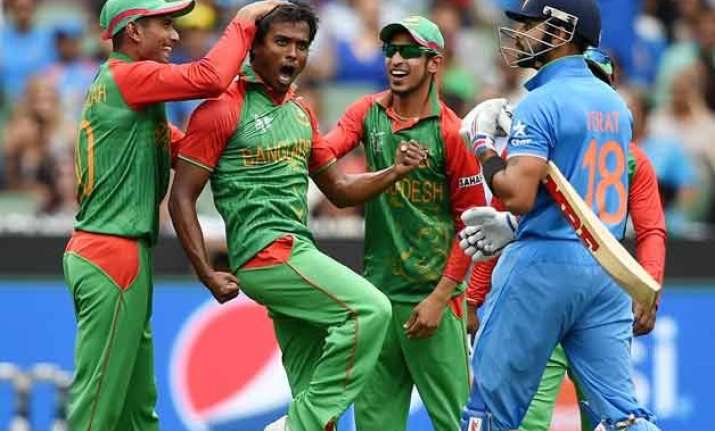 New Delhi: India may be eyeing an easy win over Bangladesh in the second quarter final match at Melbourne, but the road is not that much easy as it seems to be. The fact is, Bangladesh, which is playing its 300th ODI today, has won most of its matches which were milestones in terms of match number.
Bangladesh has won its 100th, 150th and 200th matches. They could not win their 250th match although they compensated for it in 251st match.
Today's game against India is their match number 300 and they may spring a surprise this time going by their previous record.
Today's game is also the first time that Bangladesh is featuring in a knock-out match of the World Cup. They played India in their 100th (2004) and 150th ODI (2007), winning both games. Apart from this, they also won their 200th game against West India in 2009.
However, the 250th match, which they played against Zimbabwe in Harare, halted them from setting a milestone. The match was won by Zimbabwe.
India TV takes a look at the record of all four matches:
100th ODI against India
Venue: Bangabandhu National Stadium, Dhaka
Date: 26 December, 2004
Player of the match: Mashrafe Mortaza (Bangladesh)
India undertook their first full-fledged tour of Bangladesh comprising two Tests and three one-day internationals in December 2004. The first ODI was a close affair with India triumphing by 11 runs. The second match was Bangladesh's 100th ODI and they celebrated the occasion. Bangladesh recovered from 88 for 5 to post 229 and then fielded brilliantly to dismiss India for 214 in 47.5 overs.
The team playing against India in the quarter final is led by Mashrafe Mortaza.
150th ODI against India
Venue: Queen's Park Oval, Port of Spain, Trinidad
Date: 17 March, 2007
Player of the match: Mashrafe Mortaza (Bangladesh)
This game was a part ICC World Cup 2007 played West Indies. This was the most surprising match as Bangladesh beat India in the group stage causing the cricketing giants early exit from the tournament.
India won the toss and chose to bat. They were bowled out for 191. India's bowling put on a brave fight but Bangladesh surpassed the target. Half centuries by Tamim Iqbal, Mushfiqur Rahim and Shakib Al Hasan helped the team chase the score very easily.
200th ODI against West Indies
Venue: Windsor Park, Roseau, Dominica
Date: 28 July, 2009
Player of the match: Shakib Al Hasan (Bangladesh)
Bangladesh celebrated their 200th ODI with a historic series win over West Indies. Shakib Al Hasan and Mohammad Ashraful played a crucial role and took Bangladesh home. At the centre of the accomplishment was Shakib Al Hasan. His 65 run knock helped pulling West Indies back from a flying start. Ashraful got back-to-back fifties for the first time since 2006. The Shakib-Ashraful combination outdid an exceptional effort. Bangladesh managed to beat the host by 3 wickets.
250th ODI against Zimbabwe
Venue: Harare Sports Club
Date: 16 August, 2011
Player of the match: Mushfiqur Rahim (Bangladesh)
This was the 3rd game of five match series between Bangladesh and Zimbabwe. The series gave an opportunity to Zimbabwe win a tournament for the first time in 5 long years.
Bangladesh won the toss for the first time this series and elected to bowl first to send Zimbabwe in to bat first. It wasn't a good start for the home side. After 50 overs, Zimbabwe scored 7/250. Bangladesh started on a very note. By the end, the visiting side required 8 runs from the last over with 1 wicket in spare. Mushfiqur Rahim got his century with a 2 but the ball after was caught in the deep and Zimbabwe won by 5 runs.
However, the next two remaining matches of the series were won by Bangladesh.