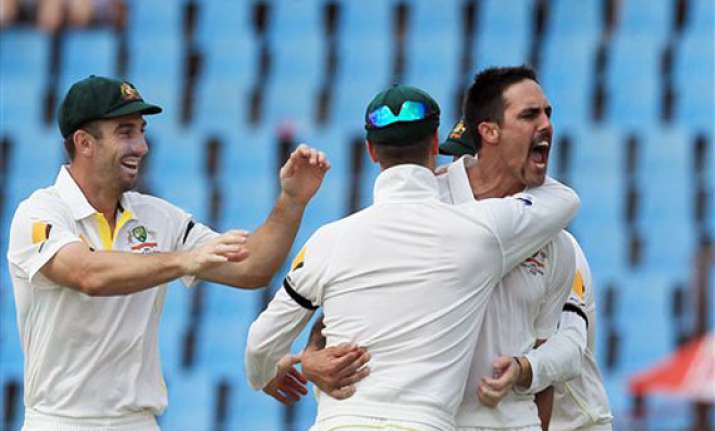 Johannesburg: Michael Clarke has got just about everything right in South Africa so far.
From the Australia captain's insistence that his bowling attack is better than the higher-ranked opposition, to his correct analysis of a deceptive Centurion pitch that left the home team baffled in the first test, to his unleashing of lethal left-arm quick Mitchell Johnson in the short, sharp bursts that sliced through No. 1-ranked South Africa and left scars, likely mental as well as physical, for the remaining two matches of the series.   
One thing he's a little off on, though, according to the signs at SuperSport Park, is his assessment of how far from the top the Aussies stand now having brought the best team in the world to its knees to win a sixth straight test -- all of them by some distance.   
"We want to get back to being the No. 1 test team in the world. We're a long way from that at the moment," Clarke said after Australia crushed South Africa by 281 runs at one of the home team's favorite grounds. "But it's nice to see us compete against the No. 1 team and challenge."   
The words compete and challenge suggest an even battle, but there was little sign of that in the four days it took Australia to dismantle the top-ranked South Africans playing on home soil. SuperSport Park has seen just one South African loss in 18 tests spanning nearly 20 years before this series opener, and that as a result of Hansie Cronje's infamous contrived declaration against England in 2000.   
No. 3-ranked Australia's return to a position of strength in test cricket just six months after it was beaten 3-0 in England was absolutely confirmed in the first game in South Africa no matter what the rankings -- or Clarke -- say. Australia's dominance was comprehensive, featuring Johnson's career-best bowling figures of 12-127, centuries by three Australian batsmen, and with a fielding display so slick it left the normally impressive South Africans clutching at straws.   
"I feel that this game will benefit us going into the next game. I really do believe that," South Africa captain Graeme Smith said after the kind of defeat the Proteas haven't seen at home in the five years they have gone unbeaten in test series. Smith added that he doubted there would be much mental scarring for his batsmen after the carnage at Centurion.   
At the start of this tour, it was the Australians who were accused of bluster and bravado.   
Now, who in South Africa, or anywhere, will doubt Clarke's comments that the Australian attack is the biggest threat in test cricket? Or fast bowler Peter Siddle's prediction that when Johnson is bowling at around 150kph it doesn't matter who you are? 
Mental scarring can be difficult to ascertain, but there's a definite toll from one of South Africa's best batsmen,
Hashim Amla
, being hit in the body and grill of his helmet by balls from Johnson and being able to do little about it. Vernon Philander had his bat, and nearly his fingers, broken. Ryan McLaren bled from a cut on the side of his head after a crunching blow on the helmet from a Johnson bouncer.   
"If you're a bit lackadaisical, you're going to get hurt," South Africa's AB de Villiers said of Johnson's blistering bowling. "And we don't want that."   
Australia's victory also put an end to a recent Centurion tradition, making as much of a statement as the four one-sided days of the series opener: South Africa had won five of its previous six tests there by an innings. South Africa normally does the bullying at Centurion.   
So, Clarke saying that his unit was still some way off the top can be attributed for the need, perhaps, to keep a rapidly rising Australian team's feet on the ground.   
When probed, though, the caution ahead of the defining second test in Port Elizabeth can't hide that Australia could be unstoppable again provided Johnson's red-hot form doesn't burn out.   
"I don't know what South Africa are feeling right now," Clarke said. "(But) I know that there's not one cricket lover around the world that doesn't know that Mitchell Johnson is bowling 150kph and executing his skills as good as, probably not as good as, better than any other bowler in the world at the moment. I think every cricket lover, whether you play the game or watch the game, they know."   
Smith knows now, too, but his insistence that South Africa will fight is also accurate because the Proteas have their backs against the wall in their own backyard and can't look forward to getting home like the broken England team after its 5-0 Ashes whitewash by Australia.   
"We were comprehensively beaten over the four days and we've got to be man enough to admit that and make no excuses," Smith said. "But we've got to find a way to respond."