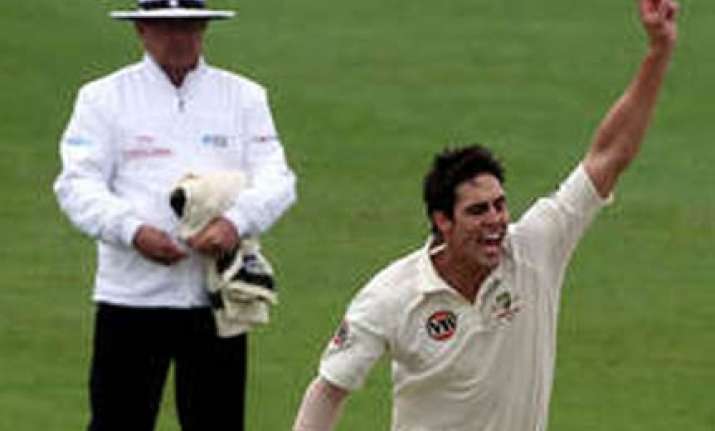 MELBOURNE: Keen to perform well against India in the upcoming tour, Australian fast bowlers have started their preparations by practicing with SG balls, which will be used in the two- Test series in October.Australian bowling coach Troy Cooley has handed the SG balls to Mitchell Johnson and other fast bowlers so that they encounter no problem in handling the ball on the tour.
"Practising with the SG balls is the first step for us. The seams sit up a little bit more [than the Australian Kookaburra's] and are a bit narrower. The SG balls are also a lot harder," Johnson said.
"Obviously our wickets don't rough up the balls as much as their wickets do. In India the ball can reverse after 10 overs. It is always a challenge playing in those conditions. I always look forward to it no matter how hard it is," Johnson was quoted saying by the 'Daily Telegraph'.
Johnson had an ordinary series against Pakistan in which he took just three wickets in two Test but he wants to do well against India.
"I just wasn't there mentally and physically. I felt a little bit off. What I have learnt from bowling in those conditions is you do need to be a touch fuller [with your length]. My role is that I like to hit the deck hard and bowl those short ones as well.
"I was a little bit short on the wicket there. In the end my preparation was not quite right. I had had an elbow [infection] and I just wasn't mentally there. With the Ashes series coming up India will be a good challenge," he said.Johnson is also hoping to get vital input from former South African coach Mickey Arthur, who is now coaching Western Australia, a side Johnson plays for.
Under Arthur, South Africa have done well against India. "Working with Mickey is going to have a huge impact on me. He is a very positive man. I am looking forward to getting back and working with him. Having someone who has been with a national side. I know the guys from the WA side have enjoyed him. He has challenged them .
"I am going to pick his brain and he is going to be open and honest. It is going to be a great learning experience for me. It will give me more options," he said.