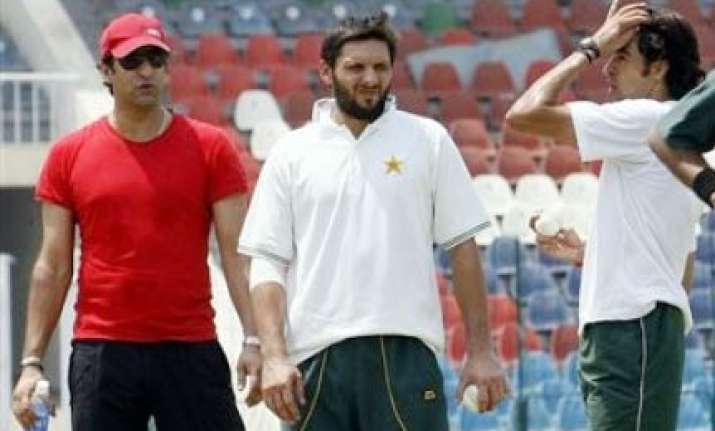 Mumbai, Feb 3: Former Pakistan captain Wasim Akram today backed Shahid Afridi to lead the side in the World Cup and hit out at the Cricket Board (PCB) for delaying the appointment.
Akram said Pakistan has the potential do well in the mega event but the side need to know leader as soon as possible.
"Pakistan can be a dangerous team. No one can altogether write off Pakistan's chances in the World Cup. They have the capability to do well, but first and foremost the captain has to be named," said Akram, among the finest left-arm pace bowlers in the history of the game.
"But they don't have a captain with just 15 days left for the tournament. I don't know the reasons behind the delay. Even Shahid Afridi must be under pressure. The sooner the captain is named, the better for the team," said the former all-rounder, who was a dangerous lower order batsman.
He backed swashbuckling all-rounder Afridi to lead his country in the February 19-April 2 tournament.
"I would go for Afridi, although Misbah (Ul-Haq) is performing well (as Test captain), but he's not a magician. Afridi has been the captain for a reasonable period of time. The World Cup is too close to change a captain.
"They came back well in New Zealand. It shows that Afridi has the skill. Last year he was the highest wicket taker and also one of the top run-getters for Pakistan. In my opinion, Afridi should be named Pakistan's captain. I don't know what the PCB thinks about it," he said.
Akram said it was difficult to spot a player with the requisite skills to lead Pakistan cricket side.
"Pakistan team me captain kahan milthe hai? (Where do you get a captain material in the Pakistan team?). Ek nahi miltha hai, tho kahan se doosra milegha? Usko (Afridi) Rakho
abh. (If you don't get one where will you find the second. Keep Afridi for the present)," he said.
The 44-year-old cricketer-turned-commentator said though Pakistan would miss Mohammed Asif and Mohdammad Aamer, suspended by the International Cricket Council for their alleged involvement in match-fixing, the team still had a good bowling attack.
"Both are talented and top class bowlers and wicket taking bowlers. Their absence will definitely make a difference.
"But Pakistan has made it a habit of playing normal cricket and playing well under pressure, but relaxing when not under pressure. Umar Gul is bowling well, Shoaib Akhtar is back and (Wahab) Riaz is also doing well. Pakistan's back up is excellent," he said.
Akram, who was here for encouraging talented children associated with the Rouble Nagi Art Foundation and Pratam, a non-government organisation, said he was satisfied with the Pakistan squad.
"I am happy with the 15 picked for the World Cup," he said.
Akram, who grabbed 502 wickets in 356 ODIs and was also a member of the triumphant 1992 team led by Imran Khan, cautioned India about the pressure of playing at home. PTI