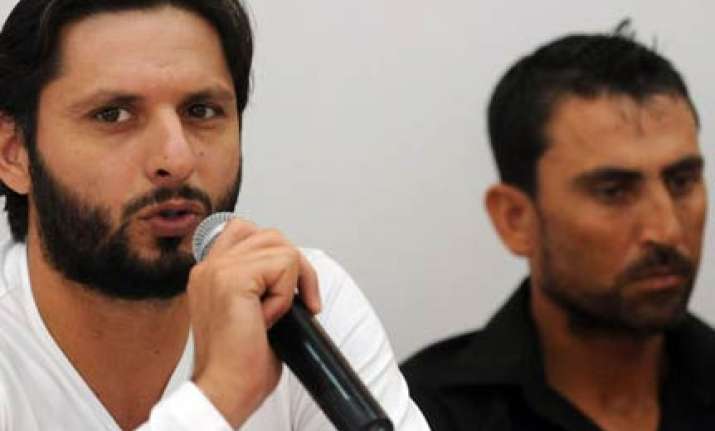 Pakistan Twenty20 captain Shahid Afridi and former captain Younis Khan have filed an appeal against the penalties imposed on them by the Pakistan Cricket Board (PCB).
Afridi has been fined Rs.3 million and Younis banned indefinitely by the Pakistan Cricket Board (PCB) in the aftermath of the team's disastrous tour of Australia.
Afridi was also banned for two Twenty20 Internationals by the International Cricket Council (ICC) after he was caught on TV cameras chewing the ball during the fifth and final One-day International against Australia in Perth.
'I have written to Wasim Bari (PCB chief operating officer) against the fine imposed on me,' Afridi told Geo Super Thursday.
'I have asked them that since I was already punished by the ICC (International Cricket Council), so what was the need of imposing this hefty fine.'
Sources said that Younis's lawyer Ahmed Qayyum is confident that the senior batsman will get a reprieve following his appeal against the ban. Also, Qayyum, who is son of Pakistan's former Attorney General Justice (retd) Malik Qayyum, has asked the board to furnish evidence that Younis was responsible for any wrongdoings during the tour of Australia.
Younis was one of the seven leading players who were banned or fined by the PCB which said it was acting on recommendations from a probe committee that investigated into the causes behind Pakistan's poor performance.
Younis and another former captain Mohammad Yousuf were banned indefinitely for 'infighting' while Shoaib Malik and Rana Naved-ul-Hasan were banned for one year.