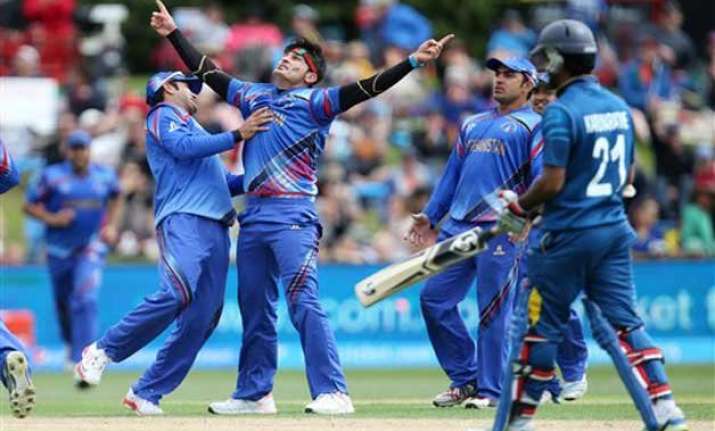 All sentiment aside, Afghanistan's cricketers showed Sunday why they belong at the World Cup.
The Afghanis, making their first appearance at the tournament, came into the event with plenty of pride and strong support from some 25,000 expatriates who now call the co-host countries of Australia and New Zealand home — and many others who want the fledgling team to do well.
At Dunedin, New Zealand, the side with some players who first took up the game in Pakistan refugee camps while escaping their neighboring war-torn country pushed higher-ranked Sri Lanka to the limit before losing by four wickets.
Sri Lanka was in trouble when Afghanistan's bowlers took early wickets, but the more established side prevailed, scoring the winning runs with only 10 balls remaining. Asghar Stanikzai led Afghanistan with 54 of its 232 runs, while Mahela Jayawardene scored 100 runs to push Sri Lanka to 236-6 and victory.
It was Afghanistan's second loss in a row in the tournament while Sri Lanka evened its record at 1-1.
"We started very well for the first 30 overs but after that we didn't play well," said Afghanistan captain Mohammad Nabi, one of those who spent time in a refugee camp in Peshawar, Pakistan. "It was a tough and tight game and the boys played very well."
Jayawardene said "all credit to Afghanistan, they batted very well in tough conditions and then bowled beautifully ... and put us under a lot of pressure."
At the Melbourne Cricket Ground in the other match Sunday, India captain Mahendra Singh Dhoni won the toss and his side went on to score 307-7 against South Africa, with opener Shikhar Dhawan leading India with 137 ahead of the Proteas' reply.
In the only match Monday, any realistic chance England has of making the quarterfinals will be on the line when it takes on Scotland at Christchurch, New Zealand.
The beleaguered team's first World Cup meeting against Scotland appeared an easy assignment when the draw was released, but with confidence at rock bottom after thrashings by Australia and New Zealand, the looms as a dangerous fixture and one which could help send the English home early after pool matches.
Scotland captain Preston Mommsen is South African-born and coach Bradburn is a New Zealander and yet each has a deep understanding of the importance of Monday's occasion.
"There's always a huge rivalry between Scotland and England in any sporting event," Mommsen said. "I've been to Murrayfield (in Edinburgh) for a Scotland-England (rugby) clash and the passion that's on display there is pretty awesome and hopefully that'll come out again tomorrow.
"We're up for this game. We've got a very passionate 15 players there who will fight tooth and nail for every run and try and save every run in the field, as well. We'll be fighting for it tomorrow."
England opening batsman Ian Bell spoke for his team on Sunday, subbing for captain Eoin Morgan, who is under pressure for his lack of form.
"It's about how we react tomorrow, isn't it?" Bell said. "We've got to go out and put in a good performance.
"It's really disappointing the fact of what we've done but hopefully the next four games in this group we can put it right and start playing the sort of cricket we know we can."