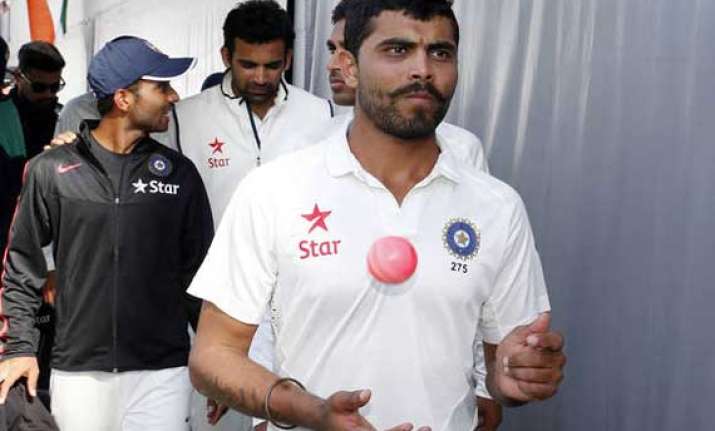 Dubai/London: The adjudicator who will investigate the Jimmy Anderson-Ravindra Jadeja incident will be named thursday by the ICC even as Level 2 charges were filed against the Indian all-rounder.
According to ICC regulation, one among the existing Code of Conduct panel member will be the adjudicator in the case.
However, the chairman of the ICC Code of Conduct Committee Michael Beloff, Sir Oliver Popplewell and Justice Goolam Vahanvati can't be appointed as the first two are from England and the last named person is from India.
"The ICC will announce the name tomorrow depending upon the availability of one of these members and keeping in mind that the Indian or Englishman can't be the adjudicator. All the members have a strong legal background and even those from associate nations. In fact, Kenya's Sharad Rao investigated the Pakistan match-fixing case," an ICC source told PTI.
So it will be one among Australia's Gordon Lewis, Bangladesh's Ajmalul Hossain, New Zealander Nicholas Davidson, Pakistan's Muhammad Aslam Sanjrani, South Africa's Albie Sachs, Sri LankanRuwanpura De Silva, West Indies' Adrian Saunders, Zimbabwe'sMoses Mtombeni, BermudaMarc Wetherhill, The Netherlands'Steven van Hoogstraten, Canada's Stindar K Lal, Ireland's Frank Sowman and Kenya's Sharad Rao and Scotland's Brent Lockie.
An ICC release stated: "The ICC today confirmed that England team manager Phil Neale has charged India's Ravindra Jadeja under Level 2 of the ICC Code of Conduct for Players and Player Support Personnel for an alleged incident that took place on the second day of the first cricket Test at Trent Bridge."
It further stated, "The alleged offence has been reported under Article 2.2.11 of the ICC Code of Conduct for Players and Player Support Personnel, which states: 'Where the facts of the alleged incident are not adequately or clearly covered by any of the above offences, conduct that either: (a) is contrary to the spirit of the game; or (b) brings the game into disrepute'."