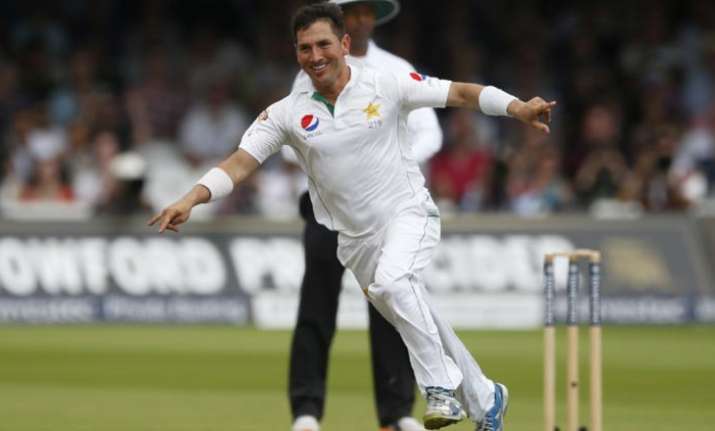 Pakistan's leg-spinner became the joint second fastest bowler to take 100 Test wickets after he dismissed Miguel Cummins on the fourth day of the first Test against West Indies in Dubai. 
The 30-year-old reached the coveted landmark at the same venue where he made his debut against Australia exactly two years ago. 
Before this match, the record for the fastest bowler from Asia to grab 100 Test wickets was held by India's R Ashwin who took 18 matches to reach the landmark. 
Ashwin took to Twitter to congratulate the Pakistani bowler for breaking his record. 
Just a little late I guess, but very well done @Shah64Y.Double it up now.🙏👍

— Ashwin Ravichandran (@ashwinravi99) October 16, 2016
The Pakistan-West Indies Test underway is a day-night match and is being played with a pink ball. 
Yasir took the 100th wicket in his 17th Test match thereby becoming the fastest Asian bowler to make the remarkable achievement. 
He finished the innings with five wickets for 121 runs as West Indies were bowled out for 357 in reply to Pakistan's mammoth 579/3. 
Yasir now joins the list with three other bowlers – Charlie Turner, Sydney Barnes and Clarrie Grimmett – who took their 100th wicket in just 17 matches. 
The record for the fastest 100 wickets in Test cricket is with England's medium-pacer George Lohmann who reached the milestone in just 16 Tests in 1896. The record still stands even after 140-year-old history of Test cricket.
Yasir bettered the record of Saeed Ajmal who held the record for fastest to 100 Test wickets for Pakistan in 19 matches.
Before the start of the match, Yasir had grabbed 95 wickets at a strike rate of 53.7, average of 27.48 and an economy rate of just 3.06. 
The left-arm Pakistani spinner has seven four-wicket hauls and seven five-wicket hauls in Test cricket.