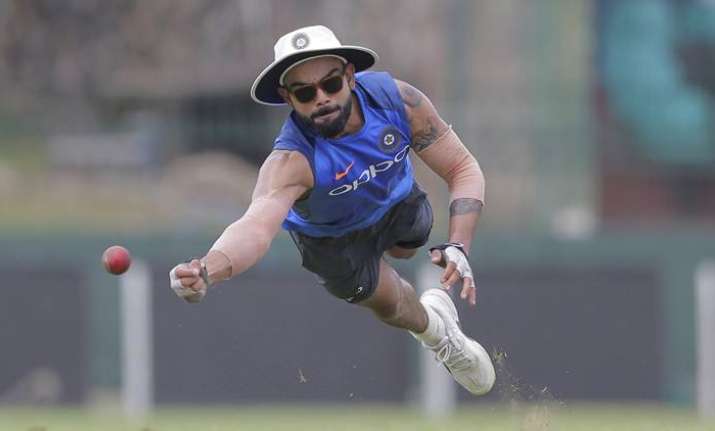 India captain Virat Kohli is set to miss his County stint with Surrey after reports emerged on Thursday that the 29-year-old is suffering from slipped disc (herniated disc) and has been told by a leading doctor to take rest.
According to a report in Mumbai Mirror, Kohli visited the Khar Hospital on Wednesday afternoon, where the orthopaedic surgeon and his team briefed the cricketer about his reports. The doctors told Kohli that there has been some damage to the spinal nerves and was a chance that he could miss some part of the England tour which begins in July, if the injury worsened.
It has been learnt that continuous cricket since last year has taken a massive toll on Kohli's body, resulting in him suffering from a slipped disc (herniated disc) and fatigue.
The doctors, however, were certain that the Team India skipper does not require surgery at this stage. During India's tour of South Africa, Kohli had missed one One Day International match due to neck strain. 
Kohli signed up for County club Surrey where he was supposed to play four four-day matches. Kohli wanted to have a crack at the wickets before India take on England in a five-match Test series. 
While Kohli was not available for comment, a BCCI official who is aware of the prognosis said the Board was relieved that he wouldn't need surgery. "Kohli was not to feature in the historic maiden Test match against Afghanistan next month, and now with this injury, his county stint will not take off either," the official was quoted as saying by the Mumbai Mirror.
The report also claims that Kohli has conveyed to the Surrey County Cricket club about his unavailability, but a spokesperson from county said that he was not aware of such a development.
Kohli was set to miss Afghanistan's historic maiden Test against India and play for Surrey before the challenging tour of England which includes three T20Is, three ODIs and five Tests.