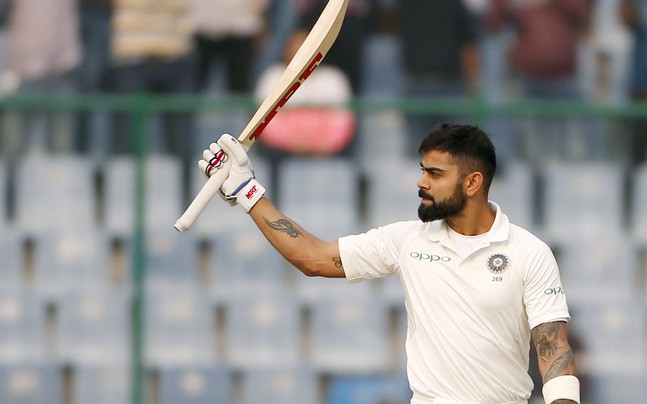 Team India skipper Virat Kohli is reportedly set to skip the one-off Test match against Afghanistan after the conclusion of the 11th edition of the Indian Premier League as the 29-year old aims improve his game on England soil. India will tour England in July where they will play three T20Is, three ODIs and five Tests. 
Kohli will play for Surrey in county cricket as the skipper aspires to improve and amend his batting skills on England soil as the swashbuckler's record against the red ball has not been impressive. The right-hand aggressive batsman has played five Test matches in the country where he has managed to score 134 runs at an average of 13.4 back in 2014 where India lost the five-match series 3-1.
A BCCI official told PTI, "Virat will be playing for a division one county side for sure. I wouldn't like to add anything more to it. There were talks with Surrey and Essex".
Kohli's outing in England has not been pleasant for him and the skipper aims to have a crack before the big occasion arises. This will be Kohli's first stint in county cricket whereas he will also be the first Indian to play for Surrey.
Afghanistan make history as they will play their maiden international Test match and will travel to India which commences from June 14 in Bengaluru.
Kohli's decision to travel London and play in county cricket has rewarded him many praises by former cricketers as the skipper has made it his priority to hone his batting skills in England. VVS Laxman and Harsha Bhogle took to Twitter to praise the skipper's wise decision.
Virat Kohli has made a strong statement of intent about the England tour where he has unfinished business by opting to play county cricket. In doing so, has also prioritised opposition by missing the test against Afghanistan

— Harsha Bhogle (@bhogleharsha) March 24, 2018
Virat Kohli 's decision to play county cricket before the England series shows his drive and commitment to achieve excellence. I am sure not only him,but Team India will do exceedingly well in the England series. Best wishes!

— VVS Laxman (@VVSLaxman281) March 24, 2018
As the reports further suggest, Kohli will play three four-day matches for Surrey against Hampshire, Somerset and Yorkshire between June 9 and June 28.
Besides the Team India skipper, Test batsman Cheteshwar Pujara will also play the upcoming season for Yorkshire which begins from April 7. Pujara went unsold at the 2018 IPL auctions and hence, will begin his practice session before the tour of England as well. Pacer Ishant Sharma is also all set for his county debut after going unsold in the cash-rich Indian T20 League and will play for English county side Durham.
It is learnt that senior Team India players will also turn up for India A in England in their bid to prepare for the tour. The likes of Murali Vijay, Ajinkya Rahane are also expected to prop up their preparations.
The three players will aim to identify areas which they need to improve that will imperatively develop their skills when India play a five-match Test rubber against England beginning from August 1.