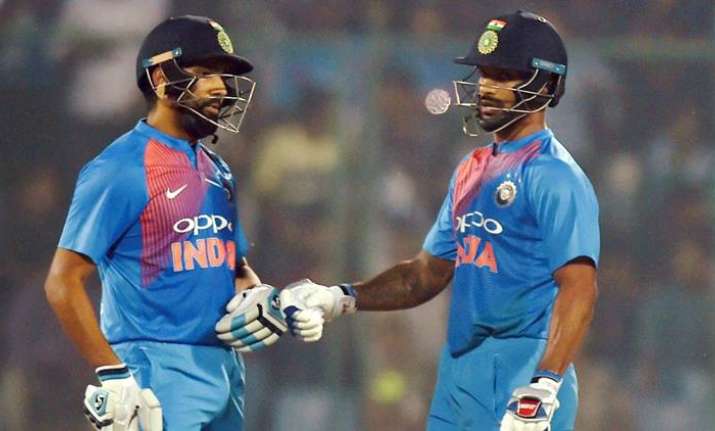 Team India opener Shikhar Dhawan stated that Rohit Sharma's form has not deteriorated and has lauded the swashbuckler for his recent performances and has had unfortunate dismissals in the last two One Day Internationals against South Africa. World's only three-time double ton scorer Rohit Sharma has not been at his best in the ongoing six-match ODI series against the Proteas.
"I feel Rohit is playing well, looking at the way he is timing the ball. Even in the last match, he was playing really good. Unfortunately, he got out, but I don't feel concerned about his batting at all," said Dhawan on the eve of the third ODI.
Rohit has scored a meagre 35 runs in the two ODIs, which India has won without any fuss, but Dhawan feels there is nothing wrong with the right-handed batsman's form.
"He has performed so well right from the Champions Trophy, till now. Sometimes it does happen that you don't score runs. But what matters the most is how he is timing the ball," Dhawan said.
Dhawan added, "There is no problem at all with his form. I think he just needs one good innings to solve all problems."
India currently lead the ODI series 2-0 with major contribution coming from wrist-spinners Kuldeep Yadav and Yuzvendra Chahal.
The duo have proved to be a lethal combination in the series so far by claiming 13 wickets in the two matches.
Appreciating their efforts, Dhawan said, "It is difficult to play wrist-spinners because they have the ability to turn the ball on flat tracks as well."
"And when the ball starts to turn, foreign players find it really difficult, because they are not used to playing such kind of turn. That can create a doubt in batsman's mind. That is why they are really effective," he added.
India face South Africa in the third ODI on February 7 in Newlands, Cape Town.
(With ANI Inputs)