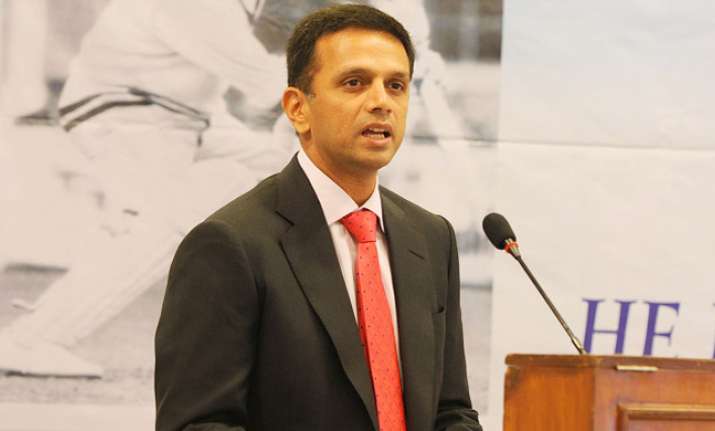 Former India captain Rahul Dravid has for the first time opened up on Anil Kumble's exit as India coach earlier this year, terming it as an "unfortunate episode". Speaking at the Bangalore Literature Festival, Dravid, who is the coach of the India A and India U-19 teams, said the manner of Kumble's exit was unfortunate for a legend like him. 
"What's the reality and what happened behind closed doors, I'm not privy to and I don't want to comment. But what I do want to say is that it was definitely an unfortunate episode and especially for someone like Anil who has been an absolute legend of the game and who has done more to win Test matches for India than anyone I know. And he had a successful year as coach as well," he said.
"Coaches get sacked. The first thing you know when you stop being a player and be a coach is that some day you are going to get sacked. I know that as the India A and India U-19 coach, at some stage I am going to get the boot. That's reality. But it's the way that it played out," he added.
Kumble stepped down as India coach after a year in charge, blaming a breakdown in his relationship with captain Virat Kohli for his exit. Kumble took to Twitter to explain his decision, saying he was informed by the BCCI that Kohli had "reservations with my 'style' and about my continuing as head coach."
Kumble had said he was "surprised" by Kohli's stance "since I had always respected the role boundaries between captain and coach."
Kumble's one-year contract expired at the end of the Champions Trophy.
Kumble achieved great success in his tenure, despite little previous first-class coaching experience. India's highest wicket-taker led the team to the top of the Test rankings, after series wins over West Indies, New Zealand, England, Bangladesh and Australia.
India won 12 of 17 Tests and lost only one. They won eight of 13 ODIs, and had a shot at defending the Champions Trophy crown.