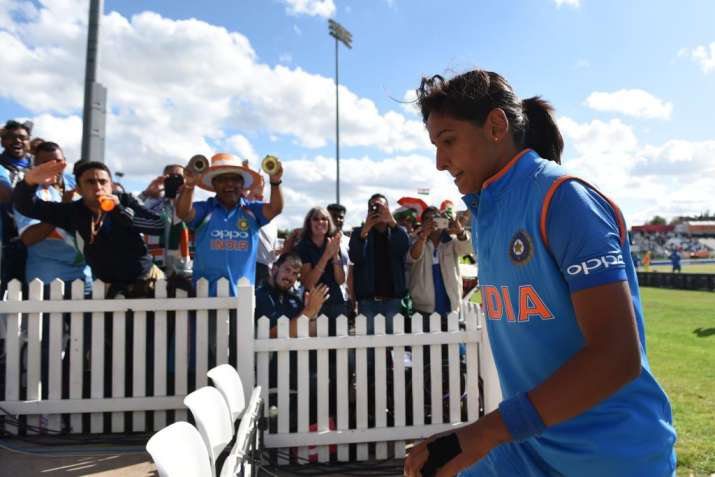 India women's team swashbuckler Harmanpreet Kaur feels that the Women in Blue will learn a lot from the Virat Kohli led team who are currently touring South Africa in an ongoing Test series. Kaur believes the two practise games which the team would be playing in South Africa will help them gain confidence ahead of the ODI and T20 series against the Proteas. 
The Indian's women team will tour South Africa for a three-match ODI series, which starts at Kimberly on February 5, followed by a five-match T20 series, which begins on February 13 at Potchefstroom. 
"Going early will help us get used to the wickets there. We are getting two practice games and it will help build confidence before the main matches. 
"The teams looks good and hopefully we will do well," the 28-year-old Moga-born cricketer said. 
The right-handed batswoman was part of the Big Bash League (BBL) in Australia and she said the practice which she did in Australia will help her in South Africa. 
"Yes, the Big Bash was good, though this time I did not get enough chance, but side by side good practise was going on. The wickets there and the practice there will help in South Africa." 
She conceded that the upcoming tour would be an uphill task to climb given the performance by the Indian men on overseas conditions recently but hoped that the team would perform well. 
"Actually after the World Cup (last year), this is the first series we are playing, and the tour will be very challenging for us and we are looking forward to it. 
"We have prepared, we have done well in this (preparatory) camp and looking forward to do well there," said the batswoman, who rose to fame after scoring an unbeaten 171 against Australia in the Women's World Cup semi-final. 
The men's team had opted to skip the practise matches before taking on the Proteas in the Test series which eventually resulted in a series defeat in the longest format of the game which is yet to be conquered on South Africa soil.
"We are going to South Africa for a few days extra (early) and there will be 4-5 days camp. 
"This camp is for both 50 overs and 20 overs...this camp is good for experience of two new girls (who have joined the team). They have done well in domestic matches and are in a good touch," she added. 
She said the break after the World Cup was needed and it has benefited the team. 
"Before the World Cup, we were involved in back-to-back seasons and we did not get break any break. I was injured and there were girls who had niggles and we needed a break. And this break will help us. 
The Mithali Raj-led Indian team are riding high on confidence after they reached the ICC Women's World Cup 2017 and opt to build on making the most of the tour.
"I know the kind of momentum we got, if one or two series would have happened, then it would have been better for us. At that time the team needed a break, which the BCCI gave us and it was good." 
Harmanpreet said an increasing number of people are now watching women's cricket due to the national team's performance. 
"The reason now people are watching us is because of our performance, we are performing from last year well and there are some areas where we need to improve. 
"We are looking at our fielding and fitness and hopefully, these camps will help us improve in the areas where we need to." 
The men's cricket team who are touring South Africa for three-Tests, six ODIs and three T20I matches, have lost the longest format of the game 2-0 with a game in hand which is to be played at Johannesburg.
Asked if whether speaking to men's team would help, Harmanpreet said, "I did not get a chance to speak to them (the men's team). This is a learning process for them and they will do well. If we get chance to talk to them, we will do that and learn from their mistakes". 
She heaped praises on Mumbai girl Jemimah Rodrigues, who has been picked up in the Indian side due to her stealer performance in the domestic cricket. 
"She is good and has been performing since a long time. We needed players like these, we have a bunch of players but felt that girls should come and perform. 
"The way she has performed in 2-3 years and if she gets a chance to play, she will be crucial and her performance will be good for the team," Harmanpreet signed off. 
(With PTI Inputs)