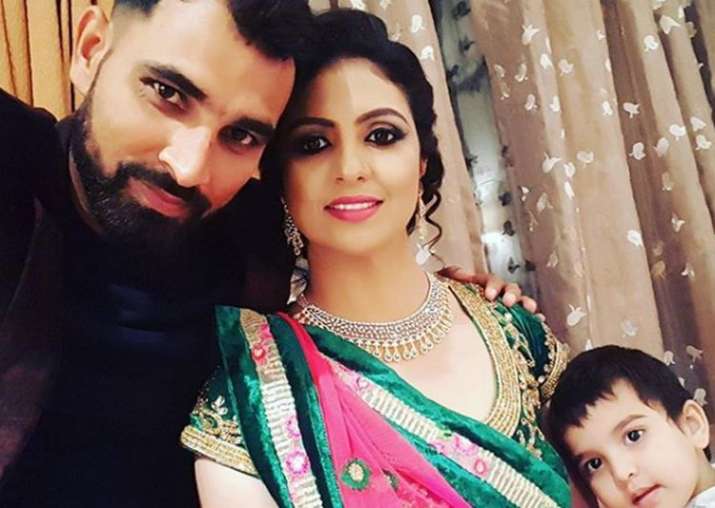 The Mohammed Shami and Hasin Jahan controversy has taken yet another turn to the dark side as the Team India pacer's wife has said that she will compromise with the cricketer only if he wants to save the integrity and dignity of the family. Hasin, who has lodged an FIR against Shami on the terms of an attempt to murder, attempt to rape, domestic violence and infidelity, is thinking about taking matters up to the court as she stated in a press conference that 'Shami had crossed all limits'.
In a press conference in Kolkata on Sunday, Hasin Jahan was present along with her advocate Zakhir Hussain and her brother-in-law Anish where she said that she has done all she could to influence Shami to sort out the matter but ever since she got hold of the phone which contains all the evidence, he must suffer the repercussion.
"In all the interviews, bytes and appearances I've made in front of the media, I have stated it again and again that I have tried to make Shami understand that what he did was wrong and ever since I found the evidence, when I asked Shami, he hasn't been picking up my phone. He has been ignoring me, denying me the right to talk to him. I've told him to apologise and for the past four days despite me getting to know such information. I've even asked a lawyer to talk to Shami to sort matters out before I could take such measures. Before putting up the screenshots on social media" said Hasin in a press conference.
On talking about compromising with her husband, Hasin said that she will only think about the matter if the cricketer is willing to put aside all the differences and sort out the causations.
"I have no idea when we will compromise and for how long will we keep on fighting like this and according to me, he has crossed the line. If we talk about compromise then I'll be the person to be blamed and all the allegations that I have imposed on him would turn out false and at this point of time, Shami could get away with anything. But if he wants to save his family and life, I would think about compromising with him."
"If I didn't find the phone, Shami would have moved to UP and would have sent me the divorce notice immediately. After the investigation we would come to know about what's true and false," said a teary-eyed Hasin.
Hasin Jahan's lawyer Zakir Hussain said that the decision is still being made regarding taking the matter to the court but it is upto the family to decide that.
"Who doesn't want to save their families and reputation. We have thought about it regarding taking the matter to court, he have to consider the family decisions and about the little child that they have".
On Shami's comments regarding the matter, Hasin stated that the Team India Test regular was beating around the bush and tried to cover up for his lies and wrongdoings.
"Shami has taken the media for a ride by beating around the bush. I have all the access to his social media accounts and I have seen it myself. I have asked him to admit what he did was wrong. The day he went to Dharamsala, I found the phone and decided to confront Shami. He didn't understand and listen and that pushed me to take it up to social media".
READ: Shami calls his wife 'mentally unstable'
Married to the Test bowler since 2014, Jahan has alleged that the bowler has had several extra-marital affairs and further alleged that Shami's family forced her to marry him and later also tried to kill her.  Jahan has accused Shami of personal attacks, domestic violence, attempted murder and now even accusations of match-fixing. The Kolkata police has charged the Team India pacer under grave sections of the Indian Penal Code (IPC), which includes attempt to murder, a non-bailable offence.
Jahan seems to have made up her mind and said that whatever decision he will make , will be run down by her advocate first.
"Whenever Shami said that he wanted to talk to me, he lied. He will talk straight to my advocate. His accusations imposed on me are all false."