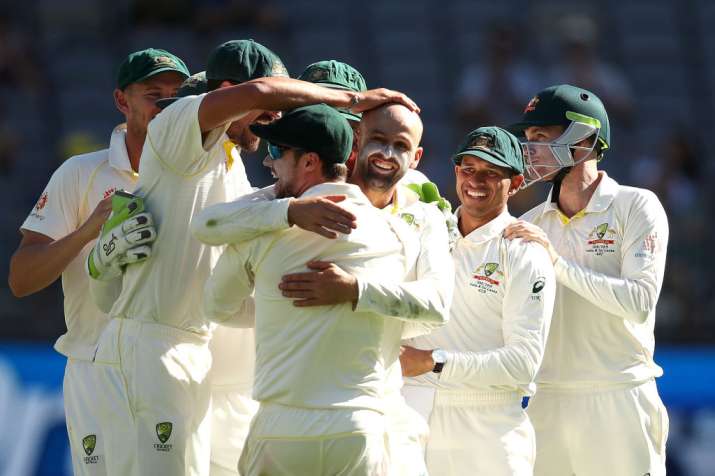 Live Cricket Score, India vs Australia, 2nd Test, Day 5: The hosts started the day on a positive note and Mitchell Starc has snared Hanuma Vihari early on and Rishabh Pant followed soon when he tried to take on Nathan Lyon. Starc came back to get Umesh Yadav and then Pat Cummins got Ishant Sharma and Jasprit Bumrah in the same over to hand India a 146-run defeat and leveled the series 1-1. (Match Scorecard | Read in Hindi)
India vs Australia, 2nd Test, Day 5 from Perth: 
That's all from us for the Perth Test. Hope you all enjoyed. Stay tuned to IndiaTV for more news, updates and reactions from the game and the upcoming IPL auction later in the day. Till then, take care and goodbye. Cheers!

09.20 IST: Nathan Lyon: ""It is amazing to play a role in helping the team victory. My role changed a fair bit to a more attacking role in Adelaide to a defending role here. Definitely those two wickets are special. Virat is the number one player in the world. Pant is a wonderful striker of the ball, he's a special talent and it's always a great challenge"

09.18 IST: Nathan Lyon is the man-of-the-match. 

09.18 IST: Tim Paine at the post-match presentation ceremony: "It's a big relief, because the first Test win has taken a while. We have been getting better over the last few months and I think this is a reward. It was a great contest, because the ball was flying through here. The roller had a real effect in the morning because it had settled the pitch down but we knew we could open up the game later with our bowlers. We had our fingers crossed and chose to bat. Khawaja has been batting really well for a long time. He is in a really good space. It's great to have Lyon in our team. Every team would want to have him in their team. It's a huge honour to captain the Australian side. Now to do it at the MCG for the Boxing Day Test is a special feeling."

09.15 IST: Virat Kohli at the post-match presentation ceremony: "As a team I think we played well in patches and that's something that we can hold on and take forward in the next game. Australia played better cricket than us and they deserved to win. Maybe we would have liked 30-40 less to chase. Australia got stuck into it for a long period and put up the score on the board.

It was really pleasing to see the way our bowlers bowled relentlessly and dominated with the ball in the second innings. When we looked at the pitch, we didn't think about the Jadeja option. We thought four quicks would be enough. Nathan Lyon bowled really well. We never thought about the spin option to be honest. I am focused on the next game and I hope I can contribute on a winning note. It was a decision made on the field, it stays there."

09.03 IST: Bumrah and Shami have to wait a while to shake hands. The Aussies take a moment for themselves. They have not got an opportunity to do this for so many months. Every player is hugging one another and just crushing each other's hair. Finally, they disperse and the players shake hands.

09.00 IST: 'Series is on, boys and girls!' says an excited Michal Clarke on air. Sensational win for Australia. First win for Australia since March 2018. 4 losses and 1 draw have preceded this match. First win for Tim Paine as captain. First win for Justin Langer as coach. Boy, aren't they delighted!


AUSSIES WIN! What a Test.

Series level! Bring on Boxing Day at the MCG! #AUSvIND pic.twitter.com/5JcsPZbVUo

— cricket.com.au (@cricketcomau) December 18, 2018
08.57 IST: OUT!
It is all over! India are bowled out for 140. The ball is on a good length and Bumrah looks to go for a slog but manages to get just a top edge. The ball goes high in the air but Pat Cummins takes a smart catch while sitting down right in front of the non-striker's end stumps. What a morning, 5 wickets within an hour and it wouldn't be far-fetched to say that this was on the cards too. It was just a matter of one wicket in the morning. The Aussies are elated and there are massive celebrations, hasn't taken them long to nip this off.
 Australia (326 & 243) beat India (283 & 140) by 146 runs in Perth to draw 1-1 level in 4-match series. 
08.54 IST:
Jasprit Bumrah is the last man in.
08.54 IST: OUT!
Ishant departs. Cummins with the breakthrough.Short delivery outside off, Ishant backs away and tries to hit it over backward point but he gets a faint outside edge and the ball goes straight in the hands of Tim Paine who will surely not drop those. Australia need 1 more wicket to wrap up the Test match and level the series.
India (283 & 140/9) against Australia (326 & 243), need 147 runs to win
. 
08.51 IST:
Pat Cummins introduced into the attack.
08.50 IST:
Mohammed Shami
 is the new man in.
08.48 IST: OUT!
Brutal is the word. Starc gives the Indians a taste of their own medicine. Yesterday, Shami and Bumrah were aiming at the batsman's head. Today, it is Starc's turn to give it back.
India (283 & 139/8) against Australia (326 & 243), still need 148 runs to win. 
08.44 IST: 
Ouch! That would be nasty. Starc comes around the wicket and the ball is a nasty bouncer aimed at the head. Yadav takes his eyes off the ball and is hit on the left shoulder.  
India (283 & 137/7) against Australia (326 & 243), still need 150 runs to win.
08.43 IST: 
Woah! Turn and bounce and almost had Ishant off the first ball. Well outside off, Ishant wants to feel the ball but misses. Paine goes up in an appeal almost instantly and then the others follow suit. The umpire wants nothing to do with it though.
08.42 IST:
Ishant Sharma is the new man in.
08.41 IST: OUT!
 What a stunning catch from Handscomb. Pant departs. It was nicely tossed up by Lyon on middle, Pant charges down the track and tries to whack it over covers but hits is inside half of the bat and the ball flies towards Handscomb who goes to his left and takes a brilliant catch. That must surely be curtains for India now.
India (283 & 137/7) against Australia (326 & 243), still need 150 runs to win.
08.37 IST: FOUR! 
Lyon drags it short outside off, Pant cuts it through backward point and the ball races away to the boundary. Good short form the left-hander.
08.34 IST: 
Some chin music first up! Umesh does what a tailender would do. Takes his eyes off and goes for the swing but connects with only air. 
India (283 & 133/6) against Australia (326 & 243), still need 154  runs to win.
08.29 IST: 
Wide outside off and Pant cuts it away in the gap wide of third man. Marcus Harris comes around from his third man position and in the nick of time, sees that Nathan Lyon also is running in his direction from sweeper cover. The former does well to jump over the latter and evade a nasty collision. The batsmen pick up two by the time the ball comes back.
08.27 IST: 
There is a floating third man and a very fine third man in position now as well. Starc serves a bouncer down the leg side. Pant goes for the pull but does not connect. Paine collects it down the leg side.
Interesting field for Pant! #AUSvIND pic.twitter.com/wrjbmmaFM5

— cricket.com.au (@cricketcomau) December 18, 2018
08.20 IST: FOUR! 
Outside off and short in length. Pant goes to slash it and gets the top edge that goes very fine and all the way to the fence. No chance for the third man fielder to stop that. 8 runs off the over.
India (283 & 128/6) against Australia (326 & 243), still need 159  runs to win.

08.14 IST: 
Lucky escape for Pant. Lyon nicely tosses it up on off, Pant goes uppishly over covers but did not get the timing he wanted and the ball falls just short of the deep cover fielder. 
08.13 IST:
Umesh Yadav is the next man in.
08.12 IST: OUT!
There is the wicket! There is the opening and it has come due to the extra speed of Mitchell Starc. The ball is on a length, pitching just on middle and leg. Vihari who was playing inside the line, gets an inside edge and the ball hits his thigh pad and lobs up for a simple catch to Harris at mid-wicket. in Perth.
India (283 & 119/6) against Australia (326 & 243), still need 168  runs to win.
08.04 IST: 
A ripper to end the over from Starc! Outside off on a length and Pant goes feeling for the ball. The ball holds its line and just whizzes past the outside edge.
India (283 & 116/5) against Australia (323 & 243), still need 171 runs to win.
07.59 IST: 
This is a beauty! Turn and bounce from Lyon. There is loop on this one unlike the previous ball and Pant is beaten on the outside as he came forward to defend it. Good stuff!
07.56 IST: 
Oooh! Inside edge down to fine leg for a single. Slightly fuller, Vihari came ahead to defend but the ball went off the inside edge. Starc has hit his straps straightaway.
07.55 IST:
Mitchell Starc will bowl from the other end.
07.50 IST:
Nathan Lyon will start for Australia while Hanuma Vihari is on strike for India.
07.43 IST: 
Michael Vaughan with the pitch report on Day 5 says that the cracks have widened more than ever and points to a huge patch outside the right-hander's off stump. Feels that Nathan Lyon should be the most effective and bowling from one end continuously. Ends by saying it has been a brilliant pitch for Test match cricket.
07.40 IST:
This is how the pitch looks like on the last day of the game.
Day five #AUSvIND pic.twitter.com/xsYTwJQZdw

— cricket.com.au (@cricketcomau) December 18, 2018
07.34 IST:
Hanuma Vihari going out and knocking before the match.
.@Hanumavihari going through the drills before start of play on Day 5 #TeamIndia #AUSvIND pic.twitter.com/ij4BjL1Buz

— BCCI (@BCCI) December 18, 2018
07.32 IST: 
Australia are within touching distance of victory going into the final day going into Day 5 as they require just 5 wickets to level the series. With the pitch opening up and helping the fast bowlers and spinners, Tim Paine and co. will be looking to wrap it up as soon as possible. Coming to the visitors, they have lost half their side and India will be hoping the likes of Hanuma Vihari and Rishabh Pant show some fight and get them over the line. Should be a cracking day of Test cricket.
07.30 IST: WEATHER UPDATE:
It is 23 degree Celsius in Perth with a humidity of 46 per cent and zero per cent chance of precipitation.
Brief Report: Australia were on course for a series-levelling win in the second Test after another below-par batting performance from India undid the good work done by their bowlers on day four here on Monday. Chasing 287 on a testing surface, India were 112 for five at stumps with skipper Virat Kohli's (17) dismissal in the 20th over of the second innings dealing a massive blow to the away team's hopes. (Read Full Report)