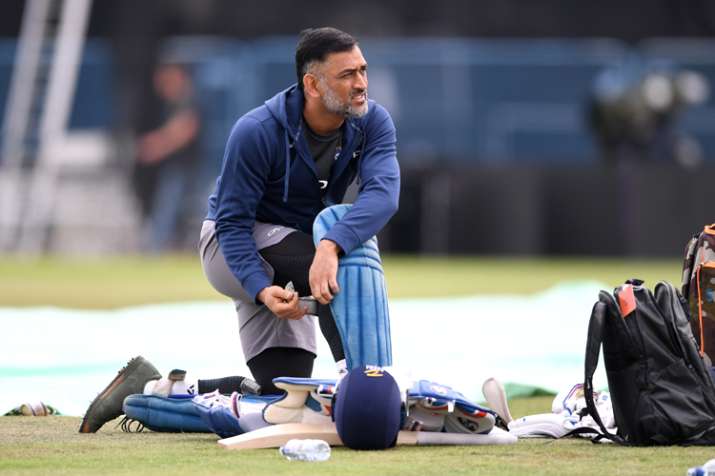 MS Dhoni's prowess with the bat has deteriorated over time and the recently concluded ODI series which India lost to England (1-2), has just placed all in a dilemma: How long does the former skipper have? (India tour of England Full Coverage)
The clock started to tick since Dhoni stepped down as captain on January 5, 2017. The 11th edition of the Indian Premier League saw Dhoni at his level best, knocking balls out of the park with his helicopter shots, hammering bowlers, a determination which we were accustomed to seeing when he was leading Team India.
Following a frenzied and tumultuous speculation filled week on Dhoni's exit from the Indian cricket team, coach Ravi Shastri dismissed all rumours on whether the 37-year old would call it quits after the ODI series loss to England.
Before jumping to any conclusions on when the former skipper will call it a day, an area of concern, for now, has been Dhoni's role with the bat. Known as one of the greatest finishers, his performances with the bat have deteriorated as his strike rate in ODIs has dropped to 79.36 from a career average of 88.13.
However, in T20Is, Dhoni's strike rate has skyrocketed to 146.80 from a career strike rate of 127.09 in the past 12 months.
In the recently concluded ODI series, Dhoni was given two chances to prove his worth in the Indian team with the bat. Unfortunately, Dhoni's innings were only booed off by the fans.
At Lord's (2nd ODI), Dhoni scored 37 off 59 deliveries, including two fours. After none of the batsmen could hang on, all the pressure was on the former skipper's shoulders to deliver, however, he could only reduce the margin as England won by 86 runs. He had a strike rate of 62.71.
At Headingley (3rd ODI), India were put in to bat and it was Dhawan (44) and Kohli (71) who had some impact with the bat. Dhoni managed to conjure up 42 runs in the 66 balls he faced. Plenty of dot balls played and he could only hit 4 fours. He had a strike rate of 63.64. England went on to win the match by 8 wickets, thus clinching the series 2-1.
He also has the least impressive strike rate as a batsman-wicketkeeper over the past 12 months, even though his average remains impressive.
| Wicket-keeper | Matches | Runs | HS | Average | 100s | 50s | SR | 6s |
| --- | --- | --- | --- | --- | --- | --- | --- | --- |
| MS Dhoni | 25 | 550 | 79 | 50.00 | - | 3 | 79.36 | 9 |
| Jos Buttler | 23 | 688 | 110* | 57.33 | 2 | 4 | 114.09 | 19 |
| Brendan Taylor | 5 | 684 | 138 | 85.25 | 1 | 1 | 94.98 | 3 |
| Quinton de Kock | 5 | 341 | 168* | 85.25 | 1 | 1 | 94.98 | 3 |
| Dinesh Chandimal | 1 | 34 | 34 | 34.00 | - | - | 103.03 | 1 |
(HS - Highest Score in the last one year)
Dhoni alone is not to blame for the loss though, with the top order having a rough day at work, it's the middle-order's turn to take a stand and ensure all that they can handle matters from here on.
Former Team India skipper and IndiaTV's cricket expert and analyst, Sourav Ganguly stated that the team needs to have quality batsmen in the middle-order and always cannot rely on Kohli manufacturing runs.
"Out batting is top-heavy and the selectors will have to take care of the issue. Rohit (Sharma), (Shikhar) Dhawan and (Virat) Kohli handle the top order, but once either of the three get out, the pressure falls on the middle-order. We need to have more quality in the middle-order and the selectors will have to look into the matter. We won in South Africa because Kohli hit three centuries in six ODI matches which sealed the matches for the team," Ganguly told IndiaTV.
With the stats dropping to a new low, Dhoni's struggles with the bat are a representative of India's middle-order woes.
The hurtful, unimaginable and dubious question arises, is it time for the Indian cricket team to look beyond Mahendra Singh Dhoni?