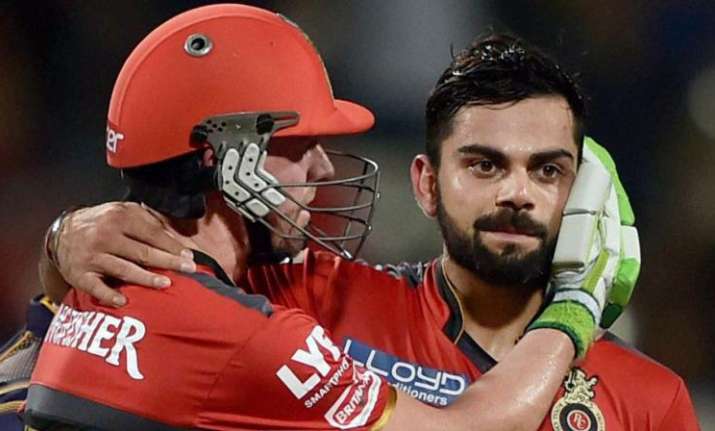 One of the most popular franchises in the Indian Premier League (IPL) - Royal Challengers Bangalore have retained Virat Kohli, Ab de Villiers and Sarfaraz Khan in the first-ever player retention event on January 4 in Mumbai. The Indian team skipper Kohli was retained for a whopping price of 17 crores, making him the costliest buy ever in the cash-rich league. South African great De Villiers and young Sarfaraz were retained for 11 and 1.75 crores respectively.
Kohli missed the first few matches of the tenth edition of the IPL with a shoulder injury. However, despite his return to the RCB fold, the Bengaluru-based franchise was never ever able to get off the ground as they ended rock bottom on the table.
The India captain is one of the best batsmen in the business and his phenomenal stats with the bat, not to mention his market worth, would make sure that he was never going to be let go of by RCB. Particularly in the 2016 season, the 29-year old hammered a record 973 runs that include four centuries at an average of just over 81.
Kohli first became captain of RCB in 2012, when he led the side in a few games before taking over the mantle full-time from the next season. He was retained by the franchise ahead of the player auction in 2014.
Whereas, Mr 360 (AB de Villiers) is also an asset for RCB especially when it comes to the shorter format. De Villers prowess with the bat is world known and his retention over the likes of Gayle and Watson speaks about the stature of the Proteas batsman. He has scored close to 3500 runs in IPL at a healthy average of 38, de Villiers has also smashed 3 hundreds in and 22 fifties in the domestic T20 extravaganza. 
The retention of young Sarfaraz Khan comes as a big surprise from the RCB team management. The 20-year old batsman is touted as the next big thing in Indian cricket and has shown immense talent in his short yet eventful career. His strike-rates of 173 in IPL and average of close to 30 gives us an insight about Sarfaraz' ability with the blade.