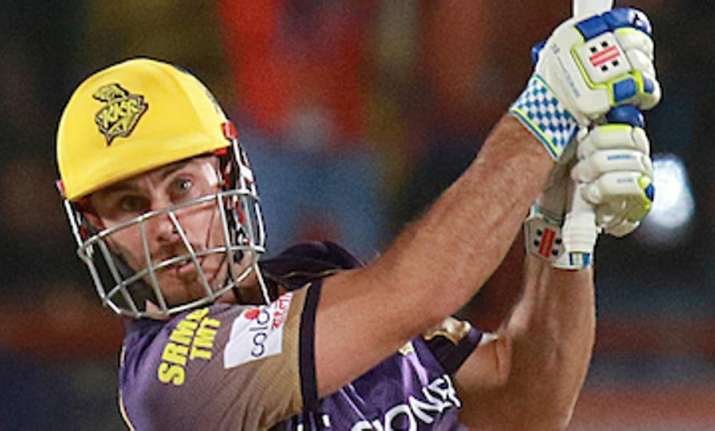 Indian Premier League franchise Kolkata Knight riders can breathe a huge sigh of relief as explosive Australian T20 specialist Chris Lynn would not be requiring shoulder surgery which boosts the chances of the swashbuckler playing in the 11th edition of the IPL.
Lynn's manager Stephen Atkinson said that the batsman had received positive news from the doctors after he fell awkwardly during a T20 Tri-nation series final match between Australia and New Zealand in Auckland.
"Chris got a positive result from the doctors who said he will not need surgery," Atkinson said, according to cricket.com.au.
"Chris is disappointed at missing the Pakistan Super League but he will be making every effort to play in the Indian Premier League and, if selected, the five one-dayers for Australia in England in June."
As media reports suggest, Lynn is understood to have minor nerve inflammation around the joint which is getting the required treatment as normal.
It was reported that Lynn's shoulder popped out of his shoulder but the staff reacted quickly enough to put it back in place.
"Chris dislocated his right shoulder after landing awkwardly on it when fielding the ball," said Bupa Support Team Physiotherapist Alex Kountouris.
Lynn will be missing out on the Pakistan Super League after suffering the injury however after receiving positive news from the doctors, the T20 specialists is hopeful of recovering in time for the IPL which begins in April.
Kolkata Knight Riders broke their bank to secure the services of Lynn for a price of a whopping 9.6 crore, which makes him the costliest Australian player in the 11th edition of the IPL. 
"I'm disappointed to not go to the Pakistan Super League as planned (this week), but I'll now focus on rehabilitation and working as hard as I can, with the hope to still take part in the Indian Premier League later this year," Lynn told cricket.com.au.
As media reports suggest, KKR seeks the services as soon as possible as the explosive batsman is one of the major contenders to land the job as skipper in the Shah Rukh Khan-owned IPL franchise.