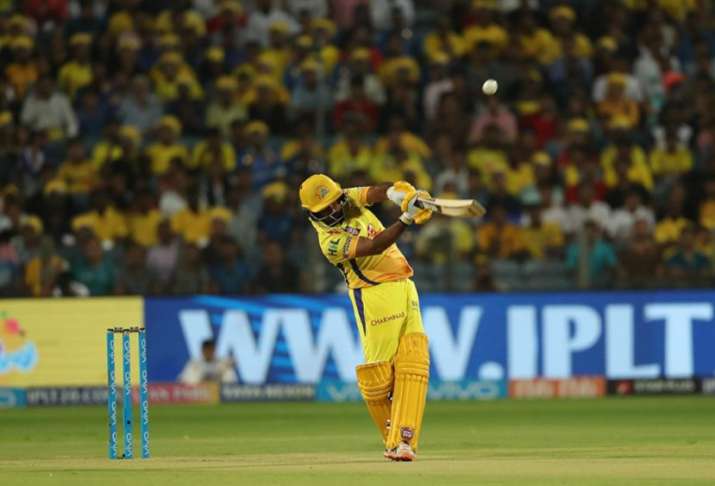 IPL 2018: CSK vs SRH: Masterful chase from Chennai. The openers set the platform with a 134-run stand and that paved the way for the win. Watson was typically brutal early on and then Rayudu matched him shot for shot. Hyderabad then sniffed a chance of a comeback with a couple of quick wickets but Rayudu and Dhoni ensured there were no more hiccups. Earlier in the day, Hyderabad made a tremendous recovery after starting slowly on a sluggish pitch. Dhawan's 79 and Williamson's 51 took them to a commanding 179. What probably hurt Hyderabad was the rain which came towards the end of the first innings. After it came and went, the swing disappeared and the pitch became a good one to bat on as well.
For a change, the best bowling attack of the tournament suffered. They never got their lines and lengths right from the start and Watson made them pay. Crucially, Rashid Khan was played out, without any wickets and the rest simply struggled. Even the highly consistent Bhuvi and the impressive Kaul suffered. The show must go on however. Sunrisers, who have already qualified for the playoffs will aim to build on their form whereas Chennai will take this condfidence forward into the next match against Delhi Daredevils.
(LIVE CRICKET STREAMING - CSK vs SRH) (LIVE SCORECARD) (IPL Full Coverage)
IPL 2018, MATCH 46 HIGHLIGHTS: CSK vs SRH FROM PUNE
19,30 IST: Second match in a row, have we seen a big target being chased down with consummate ease. When you score 179, on a sluggish track, 9 out of 10 times you win. This was that other 1 game.
It's all over here in Pune as the @ChennaiIPL beat #SRH by 8 wickets with six balls to spare.#CSKvSRH pic.twitter.com/hzV3Ml47mE

— IndianPremierLeague (@IPL) May 13, 2018
19.29 IST: CHENNAI SUPER KINGS BEAT SUNRISERS HYDERABAD BY 8 WICKETS!!
19.27 IST: READ: AMBATI RAYUDU SCORES HIS MAIDEN IPL TON!
BOSS Century by @RayuduAmbati.#CSKvSRH pic.twitter.com/qUOyUGZ7oP

— IndianPremierLeague (@IPL) May 13, 2018
19.27 IST: HUNDRED! Ambati Rayudu scores his maiden century and what a fantastic innings this guy has played. The crowd are on their feet, applauding the opener who has hung on for quite a while here. CSK 179/2 in 18.5 overs
19.26 IST: FOUR! Dhoni blasts that for a boundary on Bhuvneshwar's delivery. CSK 177/2 in 18.3 overs
19.18 IST: SIX! A full toss to MS Dhoni and you will be punished. He has been quite for a while but he waits for his chances to pounce. CSK 172/2 in 18 overs
19.18 IST: Need 19 runs in 18 balls and this has been easy for CSK. Well Watson's fifty and Rayudu's near ton has made it easy for CSK. CSK 161/2 in 17 overs
19.15 IST: SIX! Another one and Rayudu is on song right now! Another massive one Shakib has been hammered. CSK 157/2 in 16 overs
19.14 IST: SIX! Massive and 11 runs away from his first ton! Full toss and outside off, Rayudu comes down the track and slaps it over long off. Clears the ropes!!!  CSK 151/2 in 15.5 overs
19.12 IST: DROPPED! Oh dear... oh dear... you never do that... not at any stage of the game but DEFINITELY NOT at this juncture!!! Manish Pandey is the culprit. Dhoni comes down the track and swings it towards long on. Manish Pandey is the fielder there, gets ready for the catch, but takes it and plop! Puts it down! A single taken.
19.04 IST: OUT! Sandeep Sharma removes Suresh Raina early for 2 and what a catch taken by Kane. Brilliant effort.A short ball, on middle, Raina looks to pull but the ball gets big on him. It results in a top edge which goes straight up in the air. Kane Williamson runs to his left from mid off and takes a good diving catch. Raina comes and goes - The equation now - 43 from 35... CSK 137/2 in 14.1 overs
19.00 IST: OUT! Chennai lose their first wicket and it has come after the damage has been done. Watson departs for 57. That is a goner. Is he tired? Or has he done something serious? Cannot say right now. Full and outside off, Rayudu drives this through the covers and sets off for a single. Seems to be a pretty comfortable one but Watson is slow, very, very slow. He just jogs across to the other end and in the meanwhile, Kane Williamson puts in a good throw to the keeper who disturbs the bails. It is referred upstairs and replays do not save Watson. Gone after a blistering knock. The match is under control though - 46 more needed from 39 balls. CSK 134/1 in 13.3 overs
18.58 IST: SIX! Massive! He has been phenomenal so far. CSK 134/0 in 13.1 overs
18.57 IST: FOUR! Rayudu finishes off the over with a four. CSK 128/0 in 13 overs
18.56 IST: SIX! Blasted by Rayudu on Bhuvneshwar's delivery. This man has ben in fine form. These two seek to wrap it up. CSK 124/0 in 12.3 overs
18.50 IST: SIX!  Rayudu is blasting Rashid here and not sparing anyone. Tossed up outside off, Rayudu gets under the ball and lofts it miles over Alex Hales at long off! CSK 112/0 in 11.2 overs
18.48 IST: SIX! And Fifty up for Rayudu! His 17th of the IPL and this guy has been troublesome for all bowlers so far. Both the openers are killing this chase now. A short ball, on middle and off, Rayudu pulls this massively and clears the mid-wicket fence with ease! CSK 101/0 in 10.3 overs
18.45 IST: FOUR! What a shot. On a length outside off, Watson punches this through point and finds the boundary! Fifty up for Watto! His 15th of the IPL. Just his second this season. Strange, isn't it? Thought he had more. His first after 11 innings against this particular opposition. CSK 93/0 in 10 overs
18.42 IST: Excellent fielding! 'Leg spinners are good fielders', says the on-air commentator. Definitely here, Rashid has proved him right. Watson punches this through the covers and it stays good, till Rashid Khan reaches the ball, dives to his right and stops it with his left hand. Brilliant. Two runs taken.
18.36 IST: FOUR! Through the gaps and Rayudu joins Watson in his forties. Poor bowling from the usually consistent Rashid. Too short, outside off, Rayudu goes back and pulls it through mid-wicket for a boundary. CSK 83/0 in 8.5 overs
18.32 IST: FOUR! Smashed by Watto! Through the gaps and a short delivery by Shakib is taken for granted by the big man. Pulls it wide of mid-wicket and splits the fielders in the deep. CSK 77/0 in 7.4 overs
18.29 IST: FOUR!  Straight down the ground and Rayudu is teaching Kaul a lesson right now. Full pitched delivery in the slot and the batsman powers it back past the bowler. The ball speeds it away to the long off fence. CSK 69/0 in 7 overs
18.27 IST: SIX! Massive and Rayudu is off to a great start. Just clears the the long on fence! Good length ball and Rayudu dances down the track. Slaps it to long on, he just manages to clear the lurking fielder in the deep. CSK 63/0 in 6.2 overs
18.26 IST: FOUR! Siddarth Kaul comes into the attack and is greeted with a boundary. Rayudu puts pressure on the young man straightaway. Short of a length ball on the off stump line from Kaul, Rayudu pulls it over mid-wicket. CSK 57/0 in 6.1 overs
18.25 IST: FOUR!  Rayudu lofts this one over the covers. CSK 53/0 in 5.5 overs
18.23 IST: FOUR! Watson gets a boundary and a classy stroke on backward square leg on Shakib's delivery. CSK 47/0 in 5.1 overs
18.21 IST: FOUR! Rayudu gets cracking and send's Rashid's delivery for a boundary. Loopy ball on the off stump line, Rayudu sweeps it to deep mid-wicket. Rinku Singh (sub) in the deep runs across to his left and dives but fails to stop that. CSK 42/0 in 4.4 overs
18.18 IST:  Eight runs off the over once again by Bhuvneshwar including a six by Ambati. CSK 36/0 in 4 overs
18.15 IST: SIX! Ambati opens his account with a maximum on Bhuvneshwar's delivery. Pure class! Full pitched delivery from Kumar, Rayudu steps out to it and lofts it cleanly inside out over covers for maximum. CSK 34/0 in 3.2 overs
18.14 IST: SIX! Another one by Watto and that's an indication that the Australian swashbuckler is ready to chase down the target. Poor delivery from Sandeep though, drops it short on the stumps and Watson whacks it flat-batted over mid-wicket for half a dozen. CSK 28/0 in 3 overs
18.13 IST: SIX! Maximum and that was a sweep shot by Watson on Sandeep's delivery. That's confidence. Slower ball down the leg side and Watson crouches low. Heaves it well over the square leg fence for a biggie. CSK 22/0 in 2.5 overs
18.10 IST: Eight runs off Bhuvneshwar's over including a maximum. CSK 15/0 in 2 overs
18.08 IST: SIX! It doesn't take long before Watto begins smashing and this one has been blasted off Bhuvneshwar's delivery. Shortish delivery, doesn't rise enough and Watto pulls that one off the front foot over wide long on for a single. 77 meter strike. CSK 13/0 in 1.2 overs
18.06 IST: Seven runs off the over including a boundary. Sandeep as usual gets off to a great start in the powerplay. CSK 7/0 in 1 over
18.04 IST: FOUR! Watson gets started and drives Sandeep's delivery on the backfoot. Length ball by Sandeep Sharma outside off and Watson punches it square wide of the man at point. Manish's dive goes in vain. First boundary for Watson and Chennai. CSK 6/0 in 0.3 over
18.02 IST: Welcome back. Hyderabad team is in a huddle and the Chennai openers, Shane Watson and Ambati Rayudu come out to bat. Sandeep Sharma will begin the proceedings with the ball. He generates a lot of swing upfront. Can he strike early for Hyderabad? 180 on the board and Chennai gets underway with the chase.
18.00 IST: 
The batsmen have got the score and now its time for the #OrangeArmy Bowling to show their prowess and bring this game home#CSKvSRH #IPL2018 pic.twitter.com/OFCQ4vbcmk

— SunRisers Hyderabad (@SunRisers) May 13, 2018
17.57 IST:  How crucial will this guy be when he gets on to bat. He can smash and blast. Ambati Rayudu is a batsman to fear but he will be facing one of the toughest bowling units in the 2018 IPL. Chennai need 180 to win.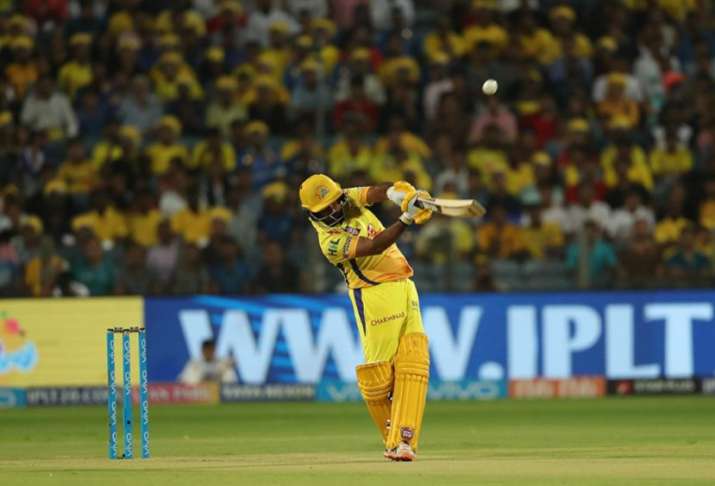 17.54 IST: Hyderabad will be pretty happy with the total they have posted. In the first half of the innings, their batsmen were not quite being able to time the ball well. However, Dhawan and Williamson played sensibly and provided themselves a good foundation. The onslaught took place after the 10th over. Both of them stamped their authority and started finding the boundaries at will. Back-to-back century partnerships put them on a high.  
17.51 IST: 
In Pune, @SunRisers get 179/4 from 20 overs after being asked to bat first. Can @ChennaiIPL chase this down against a strong bowling attack? #CSKvSRH #VIVOIPL pic.twitter.com/HAN83jG8Eu

— IndianPremierLeague (@IPL) May 13, 2018
17.47 IST: Very full around off from Bravo, Shakib can only jam it to long on and hares back for the second run. HYDERABAD FINISH ON 179/4!  Sunrisers Hyderabad score 179/4 in 20 overs against Chennai Super Kings in Pune. Dhawan 79, Williamson 51, Shardul 2/32
17.45 IST: FOUR!  Right in the slot and treated with disdain! Full delivery on the pads, Shakib heaves it over the leaping backward square leg fielder for a boundary. IPL Live Score SRH 177/4 in 19.3 overs
17.40 IST: SIX! Clean as a whistle! Thakur gets his line right this time but the length is in the slot. Hooda swings cleanly and clears the long off fence with utmost ease.  IPL Live Score SRH 168/4 in 18.4 overs
Shakib Al Hasan is the new man in.
UP UP UP in the air and Willey takes it! Dhool bowling today from Thakur! #WhistlePodu #Yellove #CSKvSRH 🦁💛 pic.twitter.com/mUihk1x42Z

— Chennai Super Kings (@ChennaiIPL) May 13, 2018
17.37 IST: OUT! Pandey holes out! Length ball around off, Pandey clears his front leg in an attempt to clear long off. Hasn't got any sort of timing on it and the ball skies towards long off. Willey runs in and takes a composed catch. Sunrisers Hyderabad 160/4 in 18.3 overs vs Chennai Super Kings
17.31 IST: Not Out! Yes, Hooda has surprised us! That seemed to be crashing into the stumps but I was wrong. Full-length ball, tailing in. Hooda shuffles a long away across and tries to flick it away but misses to get pinged on the pads. Bravo roars in an appeal and the umpire obliges. Deepak has a look at his partner and signals for the DRS. Well, well, well.. It is missing the leg stump. Sigh!
17.29 IST: Hooda seems to be a goner as he has been hit in front of the stumps but he still takes a chance. Will he surprise us?
17.27 IST: FOUR! Nice placement! Slower fullish ball outside off, Hooda lifts it over mid-off for a boundary.  IPL Live Score SRH 149/3 in 17 overs
17.25 IST: 
With that barrel-roll of a catch to dismiss Hales, #ChinnaThala becomes the first Indian to complete 150 catches in T20 cricket! #whistlepodu #Yellove #CSKvSRH 🦁💛 pic.twitter.com/XIRbsaPr7L

— Chennai Super Kings (@ChennaiIPL) May 13, 2018
Deepak Hooda comes out to bat.
17.23 IST: OUT! Take a bow, DJ Bravo! He is a superhuman in the field. Two wickets in two balls! The set batsmen are back in the hut. Momentum shift maybe? Full length ball outside off, Williamson crouches and slices it over the backward point region. Bravo in the deep has miles to cover. He hares to his left like a cheetah, lines it up, maintains his balance and takes a gem of a catch. Terrific stuff! A captain's knock ends. Sunrisers Hyderabad 141/3 in 16.1 overs vs Chennai Super Kings
Yasss! Finally breakthrough! The slower one does the trick for Champion. Gabbar walks back. #WhistlePodu #Yellove #CSKvSRH 🦁💛 pic.twitter.com/LtgOJMmPZw

— Chennai Super Kings (@ChennaiIPL) May 13, 2018
17.20 IST: Strategic break! Few dark clouds are gathering over the ground.  Manish Pandey is the next man in and there is a bowling change as well. Shardul Thakur comes back into the attack. It is getting pretty gloomy and we might have a rain interruption anytime.
17.19 IST: OUT! Bravo has the last laugh but Dhawan has inflicted a lot of damage! Smart thinking from the wily old fox. Sees Dhawan pre-meditating as he shuffles across his off stump. Bowls a slower ball to catch the batsman off-guard. Dhawan has no pace to work with and only manages to scoop it towards short fine leg where Harbhajan Singh is safe as a house. A brilliant innings from the opener. Sunrisers Hyderabad 141/2 in 16 overs vs Chennai Super Kings
17.16 IST: FIFTY! Kane Williamson slams 10th half-century of his IPL career. Captain consistent does it again! His 10th Indian Premier League fifty, 7th in this season. The hallmark of a great player. Full around off, driven to mid off for a run.  Sunrisers Hyderabad 135/1 in 15.2 overs vs Chennai Super Kings
17.15 IST: FOUR! Sublime! Slower ball on a fullish length outside off, Williamson makes room and chips it over the extra cover region. Bisects the two men in the deep to perfection.  IPL Score SRH 134/1 in 15.1 overs
17.12 IST: FOUR! Dhawan is making merry at the moment! On a length well outside off, Dhawan goes for an agricultural heave but top edges it over the keeper to get the desired result.  IPL Live Score SRH 130/1 in 14.5 overs
17.10 IST: FOUR! Picks his field to perfection! Fuller length ball outside off, it is in the slot as well. Kane lifts it just over the leaping mid off fielder for a boundary. The 100-run stand comes up. Good going. In the last game as well, these two had stitched a hundred run-stand. SRH 121/1 in 14.2 overs
17.07 IST: SIX! What a brute of a hit! Take that, Singh! A half-tracker outside off, Dhawan stands his crease and hammer-pulls it over mid-wicket for a massive biggie. He is soaring at the moment. IPL Live Score SRH 115/1 in 13.5 overs
17.04 IST: SIX! Threw the kitchen sink at it and got the desired result! His head position was the key here. Floated around off, Kane skates down the track. He is not quite to the pitch of it but still goes through with his loft. Has got good timing on it to send it flying over the long off fence.  IPL Live Score SRH 106/1 in 13.1 overs
Harbhajan Singh is back on.
GABBAR going strong! A dominating half century for @SDhawan25. How many more can he get? #VIVOIPL #CSKvSRH pic.twitter.com/BoztZt6Dna

— IndianPremierLeague (@IPL) May 13, 2018
17.03 IST: SIX! FIFTY! Shikhar Dhawan hits 31st half-century of his IPL career. Clean strike! Tossed up on off, Dhawan kneels and slog sweeps it over mid-wicket for a maximum. It has been a measured knock and he is looking dangerous now.  Sunrisers Hyderabad 98/1 in 12.5 overs vs Chennai Super Kings
16.57 IST: SIX! Only Williamson can make a slog look beautiful. In the arc in line of the stumps, Williamson gives it the full monte and tonks it over square leg for a biggie.  SRH 85/1 in 11.2 overs
16.56 IST: FOUR! Flashes and flashes hard! Good length ball outside off, Williamson throws his bat at it. Gets it more off the outer half and the ball flies over the backward point fielder. Runs are coming in a flurry now.  IPL Live Score SRH 79/1 in 11.1 overs
16.55 IST: SIX!  Boom! Tosses up around off, Dhawan kneels and slogs it over mid-on. Has connected pretty well and the ball sails over the fence. SRH 75/1 in 11 overs
16.53 IST: FOUR! This is good going from Dhawan! Gets a shortish ball and makes good use of the depth of the crease. Slaps that through cover-point. The fielder in the deep moves to his left but the ball wins the race.  IPL Live Score SRH 67/1 in 10.2 overs
Ravindra Jadeja comes into the attack.
16.51 IST: FOUR! Shoddy fielding! Back of a length ball down the leg side, all Dhawan has to do is get bat on it. He hits it towards short fine leg where Harbhajan is lazy. He dives like he is doing so in a swimming pool. Lets it go and the ball races away to the fence. Hyderabad need this kind of move on.  IPL Live Score SRH 62/1 in 9.5 overs
16.48 IST: FOUR! Poor delivery and duly punished! Good length ball, angling down, Williamson clips it nicely through fine leg. The fielder in the deep is pretty square and stands no chance to stop that one.  SRH 57/1 in 9.2 overs
Strategic break! Meanwhile, Dwayne Bravo comes into the attack. He is shrewd with his changes of pace. Let's see how he fares today.
16.43 IST: Good over from Watto, just 2 runs from it. Short of a length ball outside off from Watson, the batsman goes for the big heave across the line but fails to connect.  IPL Live Score SRH 51/1 in 9 overs
Shane Watson gets the ball.
16.35 IST: FOUR! Well timed by Dhawan! He gets an overpitched delivery from Deepak and he smashes it to extra cover, fielder there gets a hand to it but the ball still has enough legs and makes it to the fence.  IPL Live Score SRH 45/1 in 7.4 overs
Deepak is back into the attack.
16.30 IST: FOUR! Lofted drive from Dhawan and he earns boundary for the effort! Loopy ball on the stumps by Harbhajan, Dhawan steps out towards the pitch of it and hits it well over the umpire. The ball just lands inside the ropes. The umpire isn't sure and refers with his partner upstairs. Replays are in and they show its a boundary.  SRH 35/1 in 6.3 overs
Harbhajan Singh comes to bowl.
16.28 IST: Lovely swing for Deepak, the ball hits the seam after hitting the pitch. Kane Williamson goes back and looks to play away from the body. He misses it and the ball goes past the outside edge of the bat. 5 runs from the over.  SRH 29/1 in 6 overs
16.25 IST: 
As the Pride decide to bowl first, here's the entire #WhistlePoduExpress waiting to roar and whistle! #whistlepodu #yellove #CSKvSRH 🦁💛 pic.twitter.com/wcfefN2ZQo

— Chennai Super Kings (@ChennaiIPL) May 13, 2018
16.20 IST: FOUR! Super shot! A confident boost in strike from Kane Williamson! He gets a short delivery and he gets right on top of it. Rolls his fingers and pulls it beautifully to the mid-wicket boundary.  IPL Live Score SRH 23/1 in 4.2 overs
Kane Williamson is the next man in.
16.15 IST: OUT! Gone! Deepak provides an early breakthrough to Chennai! A poor shot selection from Hales, he goes for the cover drive to a wide delivery which further swings away from him. The Englishman has to reach out for it and mistimes the drive to point. He fails to keep it down and Suresh Raina takes a sharp catch inside the circle. Hyderabad have lost an early wicket which usually puts pressure on rest of the batting order.  Sunrisers Hyderabad 18/1 in 3.3 overs vs Chennai Super Kings
16.12 IST: FOUR! Back-to-back boundaries. A good length delivery by Willey outside off and Dhawan slams it through the covers for a boundary. SRH 16/0 in 2.5 overs
16.11 IST: FOUR! Big shot from Dhawan, he makes good contact and slams it away to the square leg boundary. Good length ball from Willey, angling into the pads of Dhawan who whacks it with utter disdain.  SRH 12/0 in 2.4 overs
David Willey comes into the attack.
16.08 IST: Dhawan taps it on to the leg side and calls for a quick single. Hales is quick to react and makes it before the throw comes in.  SRH 6/0 in 2 overs
16.04 IST: FOUR! Streaky but Hyderabad will take that with both the hands. The ball his the seam and comes back into the batsman, who is cramped for room as he looks to defend it. Dhawan gets a thick inside edge which misses the leg stump and races away to the fine leg boundary. SRH 5/0 in 1.1 overs
Shardul Thakur comes to bowl.
16.03 IST: Finishes the over with a terrific delivery, a yorker in line with the stumps. Hales jams his bat down in time and manages to block it. Brilliant start from Deepak Chahar. SRH 1/0 in 1 over
15.57 IST: The umpires are making their way into the middle and they are closely followed by Hyderabad's opening pair of Alex Hales and Shikhar Dhawan. Dhawan will take the strike. For Chennai, Deepak Chahar will open the attack with the new ball.
15.52 IST: 
The first game starts soon. The players are getting ready. Stay tuned and visit the Match Centre for in-dept details - https://t.co/tAXhm79dlY pic.twitter.com/lAqrkJUPBO

— IndianPremierLeague (@IPL) May 13, 2018
15.45 IST: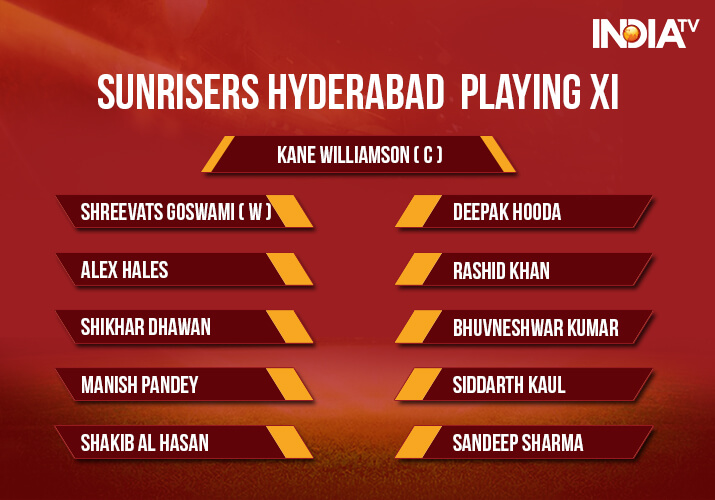 15.41 IST: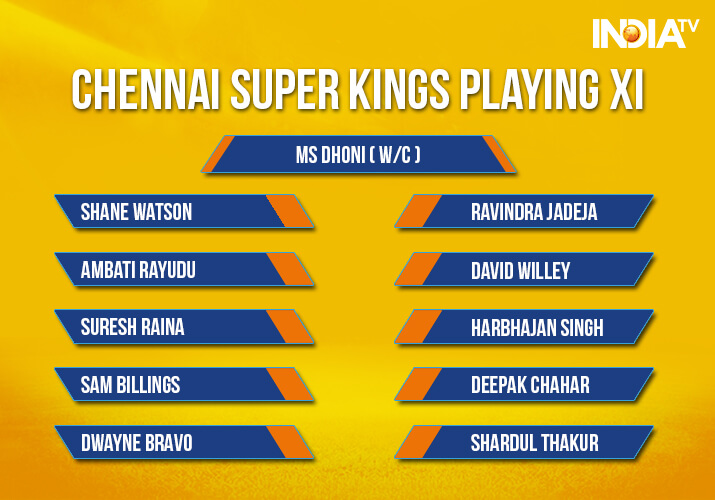 15.38 IST: Kane Williamson, the Hyderabad skipper, says he wanted to bowl first as well. He feels pitch won't change much and dew won't be the factor as well. Understands the importance of adapting quickly on this surface and posting a good score. He is delighted with the form Shikhar Dhawan is in and wants his team to stick to their plans and continue to do well. Informs about Yusuf Pathan's condition, he is soar and Deepak Hooda gets a game in place of him.
15.35 IST: MS Dhoni, the Chennai skipper, says he wants to bowl first as the wicket won't change much. Adds there is no point of always chasing, except for few venues where people like to chase. States it's important to keep winning. Informs about the only change they have made, Karn Sharma makes way for Deepak Chahar who is fit to go.
15.32 IST: 
.@ChennaiIPL have won the toss and will bowl first against @SunRisers #VIVOIPL #CSKvSRH pic.twitter.com/NUoPWBvOZg

— IndianPremierLeague (@IPL) May 13, 2018
15.30 IST: TOSS - Chennai Super Kings win toss, elect to bowl against Sunrisers Hyderabad in Pune
15.00 IST: 
#SRH in their last 6 games:
W W W W W W

The last time they lost was against #CSK at home! Can MSD & Co. break Hyderabad's longest winning streak in the #VIVOIPL or will the #OrangeArmy continue to march on? pic.twitter.com/Hz2UotFVIO

— Star Sports (@StarSportsIndia) May 13, 2018
14.56 IST: 
Watto form namma Watson has been at the #DenAwayFromDen with three Man of the Match performances in Pune across the years. #WhistlePodu #Yellove #CSKvSRH 💛🦁 pic.twitter.com/dXLimwWWF6

— Chennai Super Kings (@ChennaiIPL) May 13, 2018
14.47 IST: Hey! It's Mothers Day! The CSK team has a video pouring in some wishes for their mothers. Don't forget to wish your mother as well.
The Kingdom and its Pride owe everything to these angels. Super Happy Mother's Day! #WhistlePodu #Yellove #Mothersday 🦁💛 pic.twitter.com/hqoNQ4E5jD

— Chennai Super Kings (@ChennaiIPL) May 13, 2018
14.45 IST: 
The #OrangeArmy is ready for the #SuperKings. Pune are you ready for the match tonight?#CSKvSRH #IPL2018 pic.twitter.com/3sPbU9micF

— SunRisers Hyderabad (@SunRisers) May 13, 2018
Hello and welcome to our live coverage of today's match between Chennai Super Kings and Sunrisers Hyderabad at the MCA Stadium in Pune. The TOSSS will begin at 15.30 PM IST and the match will commence from 16.00 PM IST. We will shortly get underway with the updates so stay tuned!!
Brief Preview: The Mahendra Singh Dhoni-led Chennai Super Kings (CSK) will be desperate to return to their winning ways when they face table-toppers Sunrisers Hyderabad (SRH) in an Indian Premier League (IPL) tie at the Maharashtra Cricket Association Stadium on Sunday. Chennai, who sit at the second spot in the points-table, are yet to qualify for the playoffs as the yellow brigade suffered a four-wicket loss against Rajasthan Royals in their last encounter on Friday. READ FULL PREVIEW HERE