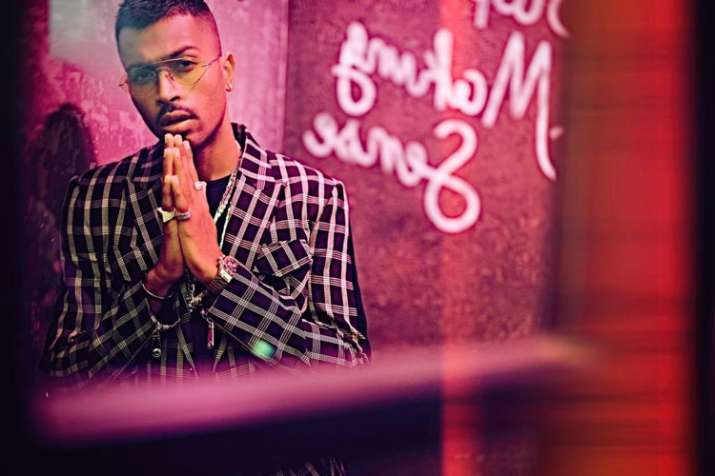 Social media can be a brutal place and Hardik Pandya, who is normally pretty active on it will be feeling the wrath of it amidst India's historic series win Down Under.
While India managed to win a Test series in Australia for the first time in 71 years, Pandya will perhaps be kicking himself for revealing a bit too much in Karan Johar's talk show 'Koffee With Karan'.
Pandya, who appeared in the show along with good friend and India teammate KL Rahul on Sunday, was called out on Twitter for his 'misogynistic' and 'creepy' comments on the coveted couch.
The 25-year-old, who flew to Australia for the last two Tests after recovering from a back injury, didn't get a game but managed to grab enough eyeballs and hate through his 'cool-idgaf-badboy' image.
And, Twitterverse was not holding back in calling out the Baroda all-rounder. 
Imagine going to your mother n talking about losing your virginity saying "aaj mai kar ke aaya"
Like seriously Hardik Pandya chhichhore.. there's a fine line between cool and creepy! Wish aunty taught him some humility too..
Money can't buy you manners!sigh

— PD (@PrachiNotDesai) January 6, 2019
A thread on all the creepy, misogynist, racist, and problematic things Hardik Pandya said on Koffee With Karan:

1) KJo: Why don't you ask women's names at nightclubs?

HP: I like to watch and observe how they move. I'm little from the Black side so I need to see how they move.

— Anxious and depressed 🌹🌱🌼🌾 (@SreePooh) January 6, 2019
Watching @koffeewithkaran, a show so entertaining and a mass favourite was a huge disappointment today. Mr Cool objectifying women around him seemed like a coffee affair passed away in few giggles. Sadly, He represents our National Team.#HardikPandya #koffeewithkaran

— Shivani Asthana (@ishivaniasthana) January 6, 2019
Such classless act from #HardikPandya what is the example these cricketers are setting for future generation. Those were the days when Dravid and Sachin use to be so humble. Miss those cricketers.

— deepak chaudhary (@imperialboy) January 6, 2019
By far the worst episode. Classy show usually and then appears #HardikPandya Verbal gutter, sadakchhap vibe. Feeling bad for #KLrahul Why #KJo why????!! #KoffeeWithCricketers

— Nomadic Mind (@NomadicDimaag) January 6, 2019
It might have been fun initially to watch two young sportsmen letting their guards down, but the obnoxious and misogynist attitude of Hardik Pandya just was too much to take in. At one time, cricket was called a gentleman's sport. Where has all the class gone? #KoffeeWithKaran

— Medha Chatterjee (@moldyshorts16) January 6, 2019