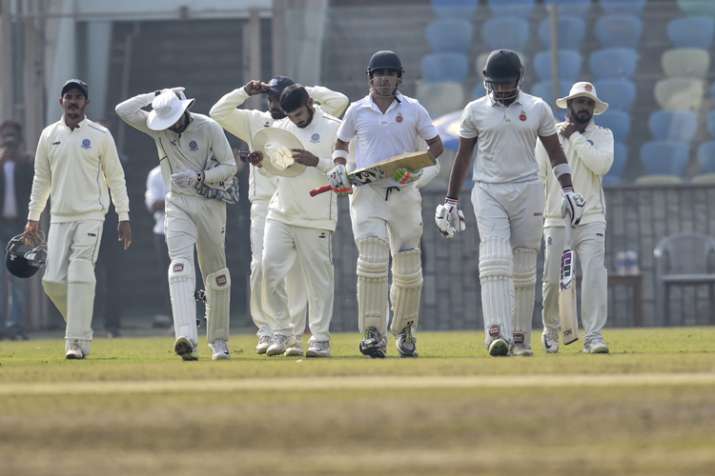 Gautam Gambhir bid an emotional farewell few days back as he announced his retirement from all forms of cricket with the Ranji Trophy game against Andhra Pradesh being his last.
Gambhir has played some extremely important innings in his life, which include the 75 in the World T20 final and the 97 against Sri Lanka in the 2011 World Cup -- both of which turned out to be match-winning knocks.
But, few would satisfy him as much as the one against Andhra in his last game ever for Delh at the Feroz Shah Kotla.
Batting on 92 overnight, Gambhir came out and completed his century -- his 43rd in first class cricket. However, he couldn't carry on for longer as he fell for 112 to Mohammed Khan in the 67th over of the Delhi innings.
This is more or less Gambhir's last innings for Delhi in first-class or List A cricket as only two days are left in the game with Delhi's first innings and Andhra's second remaining.
Earlier in the game, everything else became a footnote once Gambhir entered the field to bat on day two.
It was a Feroz Shah Kotla hosting a Ranji match, for which a few hundred faithful from Old Delhi turned up.
The stage was set and there were little elements that the handful of people would remember in his last hurrah.
There was a customary security breach (synonymous with Kotla) with a fan trying to click a selfie before being hauled up, the Guard of Honour by teammates at every break and his wife turning up with two adorable daughters just after the husband completed a fifty.
There was the artist Saif splashing his canvas with colours to capture for posterity his final on-field exploits.
Gautam Gambhir had it all and even the Almighty wouldn't have wanted the fairytale script to go awry.
So no one complained when an Andhra fielder dropped a sitter at mid-off, a regulation catch which would have been otherwise gobbled "11 out of 10 times".
He was twice dropped in the slips but it didn't matter during the 152 balls that he played.
They wanted to see Gambhir bat like Gambhir. Ugly but effective with some pleasant drives sprinkled in between and scrappy at other times.
The tuck of the hips, the jabs and the dabs with quick rush and that occasional cover drive were all there to see.
Once into his 70s, he slowed down as the milestone approached.
The photographers got edgy, elder daughter Azeen and toddler Anaiza wanted to run into the ground, but Gambhir didn't want to ruin it.
He was ready to grind it one last time.
It's his last chance to lift his bat, open his helmet and acknowledge whoever will be present at the Kotla on Saturday.
He needs eight runs more and probably wouldn't mind if a few more cricket fans turn up for that probable moment.
Gambhir, and his fans know he deserves that last hurrah.
(With PTI inputs)