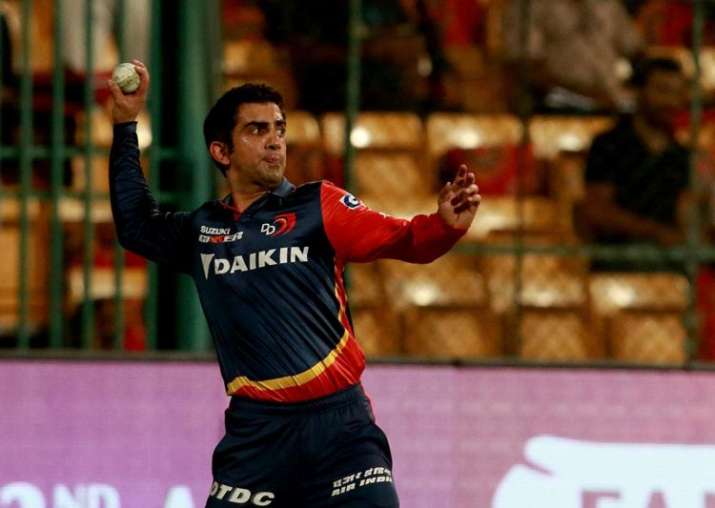 Gautam Gambhir, who stepped down as the Delhi Daredevils captain in the middle of another disastrous Indian Premier League (IPL) season, said he was not selected in the playing XI after he decided to stand down as skipper.
Delhi Daredevils once again did not qualify for the playoffs in Indian Premier League. It was a poor season for the Delhi franchise as they finished last on the points table with only 10 points from 14 matches. 
Under Gambhir, Delhi lost five out of their first six matches which eventually saw the discarded India opener stepping down from captaincy. Shreyas Iyer was announced as the new captain for the rest of the season.
After stepping down, the left-handed batsman was not selected for any match in the IPL, which sparked speculations of Gambhir's retirement.
However, Gambhir, in his column for Hindustan Times, said he would have played had he been picked by the Delhi team management for rest of the matches.
"A lot of people asked me why I didn't play after stepping down from captaincy. My reply is simple: I would have played had I been picked," Gambhir wrote.
It was a shocking disclosure from Gambhir because if he was available for selection then why coach Ricky Ponting and the management didn't hand him one opportunity to prove himself. 
While Gambhir was dropped after just six games, Ponting's decision to back Australian all-rounder Glenn Maxwell throughout the season even without some credible performances raised many eyebrows. 
The 36-year-old also spoke about Delhi's miserable season and laid down some of the reasons he felt were responsible for the eventual outcome.
"A lot of people also ask me where did we go wrong. It is simple again: injuries to key players like Rabada and Morris, inability to build the right team combination, certain players not clicking, the team not playing important moments well and also the inability to handle pressure are all reasons for our failure," he added.
Gambhir also shunted down the speculations about his retirement.
"It is widely speculated that I am retiring from the game and contesting elections in Delhi and District Cricket Association. Both are not true. I am still keen to play and win games for my teams," Gambhir wrote in his column for Hindustan Times.