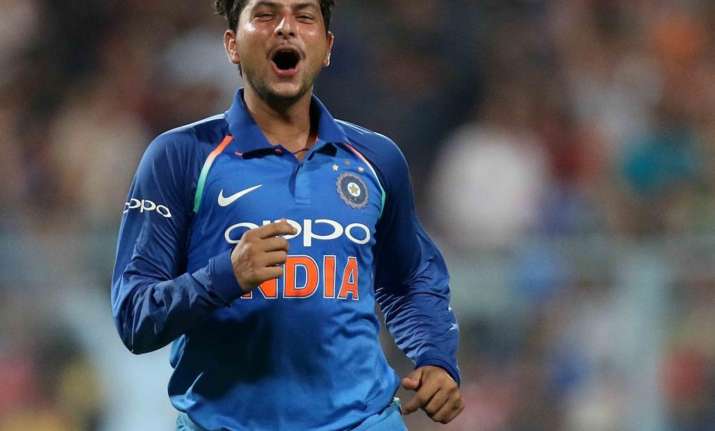 India's newest star on the block, chinaman Kuldeep Yadav believes it won't be difficult for his team to whitewash New Zealand in the upcoming three-match one-day international series, starting in Mumbai on Sunday. The 22-year-old from Kanpur has made rapid strides in limited-overs cricket over the past couple of months and, alongside another youngster, Yuzvendra Chahal has shouldered the Indian spin attack in back-to-back limited overs series triumphs against Sri Lanka and Australia not letting the team feel the absence of seasoned pros like Ravichandran Ashwin and Ravindra Jadeja.
Kuldeep, who became the first Indian spinner and only the third bowler from his country to claim a hat-trick in India's 4-1 ODI series triumph against Australia, has become a serious threat for the opposition teams with just two Tests and 11 one-day internationals to his name. Kuldeep was well supported by the 27-year-old Chahal, who caused problems for the Australians with his deceptive leg-spin bowling to bag six wickets in four matches.
Kuldeep's antics with the ball has already set the alarm bells ringing in the visiting New Zealand camp. New Zealand batsman Tom Latham recently said that his team is leaving no stone unturned in seeking a way to counter Kuldeep and Chahal. 
Ahead of India's series against New Zealand, Kuldeep told India TV that it is good to see the visiting team speaking about him but he also admitted that it will be a challenge for him to perform as per the expectations.
"Definitely, it is heartening to see the New Zealand players speaking about me even before the start of the series. Your team expects you carry on your performance throughout the series. It is a boost for you and at the same time, it is challenging as the opposition team has its eyes on me. It is an important time for me as I have to deliver on the expectations and I am taking it as a challenge. Every series is a challenge for me and I want to keep performing," Kuldeep told India TV from Nagpur.
Kuldeep, who has made his presence felt in the Indian Premier League playing for the Kolkata Knight Riders, said he is focussed on improving his basics. Kuldeep's performance has played a key role in India rising to the top of the Test and ODI rankings.
"I am currently focused on improving my basics - an area which I feel I was lacked in between. I was losing my rhythm in a couple of matches so I am working on improving my game because if you are in your rhythm, you can dismiss any batsman," he said.
Last week, India lost their No. 1 status in the ICC ODI rankings to South Africa following the Proteas' win over Bangladesh in the second match of the ongoing series. While India and South Africa have identical 120 points against their names, India are placed second on the basis of decimal points. But India have a chance to reclaim their top spot in the series against New Zealand.
Kuldeep said India are eager to get back to the number one spot and they will look to win the series 3-0. 
"We want to give our top performance. It would be very good if we can beat them by 3-0 and I think it is very much possible keeping in mind the way we are have been playing through out the year. It won't be much difficult for us as we are playing good cricket," he said.
Kuldeep also revealed his plans on how he would look to keep New Zealand captain Kane Williamson in check.
"I have never faced Kane Williamson but obviously if your bowl on the good length areas or outside the off stump, it gets more difficult for the batsmen to score freely," he signed off.
(With special inputs from India TV Sports Correspondent Vaibhav Bhola)