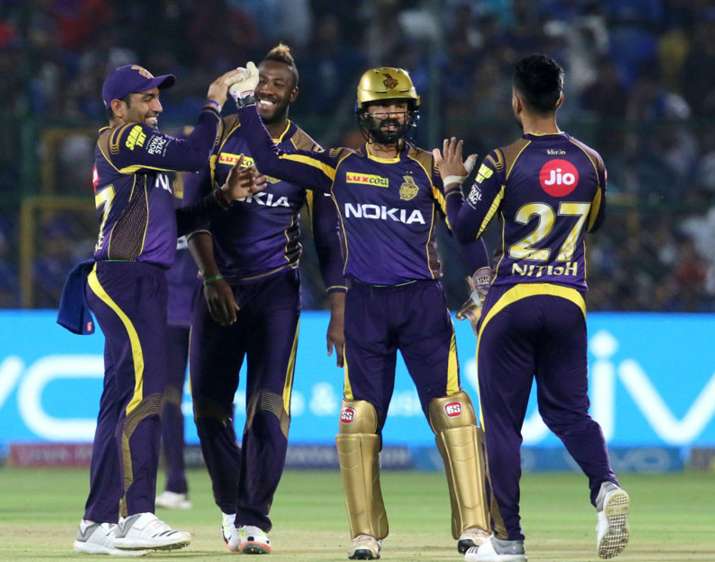 Kolkata Knight Riders captain Dinesh Karthik firmly believes that there are a few aspects on which the team needs to improve if they want to qualify for the Indian Premier League (IPL) playoffs in this season. Karthik didn't hesitate to accept the fact that KKR bowlers haven't been up to the mark in the season so far. 
"It's important to gather momentum and enjoy ourselves on the field. We need to bowl better and improve on various fields if we are to see ourselves somewhere this season," Karthik told India TV during the show 'Cricket Ki Baat'.
The 32-year-old wicketkeeper-batsman was appointed the captain of the two-time champions (KKR) in the beginning of IPL 2018 as former skipper Gautam Gambhir returned to his home team Delhi Daredevils.
According to the Tamil Nadu batsman, KKR are in best shape to lift the title this season but they are aiming for one goal at a time. "First, we need to qualify and from there on it's a knockout round. We want to take it one step at a time. The team is balanced. We are happy when we win, and the team learns when we lose."
Having played six matches in the 11th edition so far, Kolkata have won thrice, lost thrice and rank fourth in the IPL 2018 points table. Karthik said that his experience has been great as a captain, adding that he hopes to see the team coming out on top this season. 
KKR lifted the coveted IPL trophy twice in 2012 and 2014 under the captaincy of Gambhir. Kolkata will meet their former captain on Friday when they take on Delhi Daredevils at the Feroz Shah Kotla, Delhi. Karthik said the team has a lot of respect for Gambhir but the boys will put a strong foot forward. 
"We become more instinctive when we lead a team. Gautam has worked a lot for KKR over the past seven years. The fans and Gautam have a lot of respect for each other and whenever the two franchises play together, the atmosphere around changes," he added.
Gambhir's rough patch, along with a poor form of other batsmen, has resulted in over-reliance on young Rishabh Pant. The team has lost five of its six matches and is languishing at the bottom of the points table.
On the other hand, KKR are also struggling a bit with their bowling. But what has worked reasonably well for them is their batting. Their willow-wielders have been contributing consistently, twice taking the side past the 200-mark but bowlers have struggled to defend even big totals.
Amidst the slow and spin-friendly conditions at the Feroz Shah Kotla, KKR will have all their hopes on Kuldeep Yadav and Sunil Narine. 
Karthik hailed Kuldeep, claiming that he has a bright future ahead of him. "He is a star performer. He has a bright future ahead of him and his performances for the national team has helped him get the correct attitude in the game."