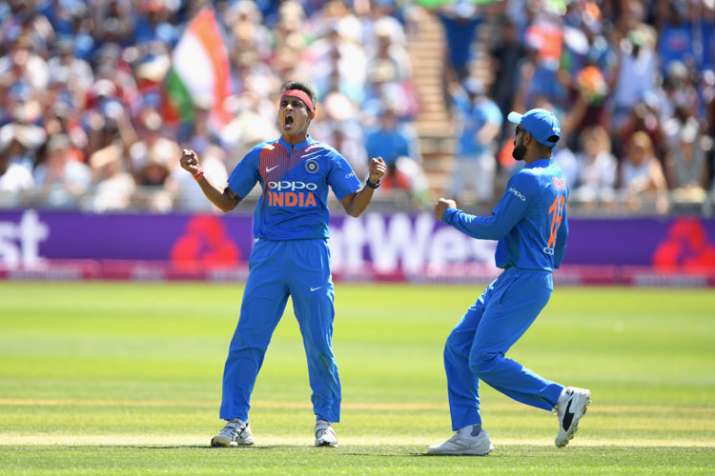 After beating New Zealand 4-1 in the ODI series, the Indian team is all set to start the last leg of their year-long overseas campaign with the 3-match T20I series against the same opposition on February 6 in Wellington. Punjab pace bowler Siddharth Kaul who is part of India's squad for the upcoming series is looking to leave an immediate impression having been highly successful in the country recently when he toured with the India A team. 
Having been selected into the national side after an impressive showing in both red and white-ball formats, I caught up with the fast bowler for a telephonic conversation before the T20I series. Here is the full interview:
AT: First of all, many congratulations on your selection for the series against New Zealand!
SK: Thank you so much!
AT: You had recently toured New Zealand with the India A team. In the ODI series, you were the highest wicket-taker, which must surely have played some role in your selection for the upcoming tour with the senior team. So what are you going to bring to the table, considering your experience in NZ, as you travel with the team?
SK: Obviously one of the benefits for me is that I recently played there, so I know a lot about the conditions there. They have mostly flat pitches, shorter boundaries and a lot of wind blowing across the grounds. It's quite difficult to bowl into the wind in NZ. I am immensely thankful to our coaches and trainers on the India A tour for helping me cope with these conditions. Paras (Mhambrey) Bhai, who is our bowling coach used to make me practice a lot on how to tackle the wind. Because during match situations, you never know from which end you could end up bowling and which direction the wind might be flowing from. So the practice helped me a lot when I was playing. I will stick to the same basics even this time around and do things that have worked for me before. I have already been practising on similar lines in Punjab for the tour.
AT: You had won the U-19 World Cup under Virat Kohli's captaincy and you've also played under Kane Williamson in the IPL. Do you see any similarities/differences in their captaincy styles?
SK: Both are different types of captains. Every leader has his/her own way of going about things. Virat is an aggressive captain while Kane is in his own zone as a skipper and is aggressive in his own way without necessarily showing it. But both are equally adept at their jobs and I can't say that one is better than the other.
AT: You are the second-highest wicket-taker for Punjab in this Ranji Trophy season. In the IPL, since you have overcome injuries, you have been doing really well too...(cut short)
SK: The thing is I have never been 'injured' in my life. There have been a few niggles, here and there, but never a real injury. And such problems keep happening because you are playing such a rough and tough sport all the time. I would call them injuries if they had forced me to miss a number of seasons but that hasn't happened yet, touch-wood! (laughs)
AT: But according to your first-class record, from 2008 to the beginning of 2012 you had only played six first-class matches...
SK: Yeah that is because there is this protocol that you will only get selected if you perform. I was playing U-22 earlier in which I wasn't doing so well. But suddenly, in my second-last year of playing the U-22 level, I produced some extraordinary performances including 28 wickets in four matches, which paved the way for my Ranji Trophy selection. Since then, the last four years of Ranji Trophy have gone really well for me. So it is all about performances and producing them at the right time, situation and areas. If that happens then you will keep getting selected otherwise no one will pick you to play. That is what I believe.
AT: You play the IPL for about two months every year. And after it gets over, you come back and also perform well with the red-ball in domestic matches. Do you have to make some adjustments when you switch formats?
SK: I don't think that there is any difference in bowling with a red or white ball. It's all about mindset. In each format, whether it be Tests, ODIs or T20s, the mindset has to be the same. Of course, the variations can differ from one format to the other but the lines and lengths remain the same across versions. Maybe you will bowl a little short of the length in white-ball cricket than Tests because the batsman is looking to score freely in the former. Also, a bowler might bowl variations in shorter formats. But that's it.
AT: So you bowl more variations in T20s than Ranji Trophy?
SK: Yes sure because the batsman's mindset is also different in Tests than the T20s. In the former, (s)he is looking to leave the ball while in the latter (s)he wants to hit you out of the park. So you have to maintain the right balance between the two and bowl according to the situation. And that is what I try to do on the field as the execution is important too. Thankfully whenever I am able to execute my plans well, I get wickets. As you were saying that I have been doing well, it's only because when I practice or I'm playing matches, my execution is right and so I am getting wickets.
AT: In the kind of environment today where there are so many T20 leagues being played around the world, where players from different countries come and play together, does it help you when you play against, let's say your IPL teammate Williamson?
SK: Yes sure because when you meet so many players from other countries and play with/against them in the IPL, you get to know about their strengths and weaknesses. Another crucial benefit is that these leagues help in our growth as players. When you are playing domestic cricket, you are always dreaming of playing for your country or playing international cricket. But when you play alongside the superstars of the game, you get to know where you stand as a cricketer and what are the things that you have to work upon in your game. 
I was lucky to have had the guidance of Ashu Bhai (Ashish Nehra), Bhuvi (Bhuvneshwar Kumar), Dale Steyn and Zak Pa (Zaheer Khan), who is also our mentor, for so long as from them I have learned a lot about bowling. Also in our domestic cricket, legends Yuvi Paaji (Yuvraj Singh) and Harbhajan Singh, have been guiding me for a long time. When such guys are linked with you, you can only benefit from it, there are no pitfalls. 
Whereas earlier you graduated directly from domestic cricket to internationals, now an U-19 player gets to brush shoulders with international superstars in the IPL, and you get to know where you stand and the areas in your game which you need to work on.
AT: You talked about Yuvraj Singh. He also plays for Punjab and has been your senior for a long time now. He must have been a great source of inspiration while you were growing up as a cricketer.
SK: Certainly, goes without saying. Without a doubt, all of us youngsters are inspired from those two legends (Yuvraj and Harbhajan). Especially Yuvraj whose struggles off the field are awe-inspiring in themselves, let alone his amazing performances on it, which he still continues to churn out. So you are bound to be boosted up if some of the game's legends are backing you and guiding you all the time.
AT: Flat pitches, shorter boundaries, two new balls...the list goes on. It is clear that today's game, especially white-ball cricket, is not very favourable to pace bowlers. So, as a bowler, if you could change one thing about cricket today, what would that be and why?
SK: I wouldn't want to change a single thing. You are right that it is difficult for the bowlers but it also shows how tough our bowlers are who are getting wickets despite the odds heavily stacked against them. Especially if you look at Indian wickets, pace bowlers don't have much on offer so it gets even more difficult, isn't it? That is why I wouldn't want to change anything because, in my opinion, it would be an excuse. Earlier, teams used to score around 200-250 runs in 50 overs but nowadays even 400 sometimes is not enough. So the environment keeps changing but credit to the bowlers that they keep adapting as well. Personally, I love this game and wouldn't want to change a thing. Whatever the conditions are, I like playing cricket and I am passionate about the game as it is. I will try to keep giving my best, always.
(As told to indiatvnews.com Senior Sub Editor Ajay Tiwari over a telephonic conversation)