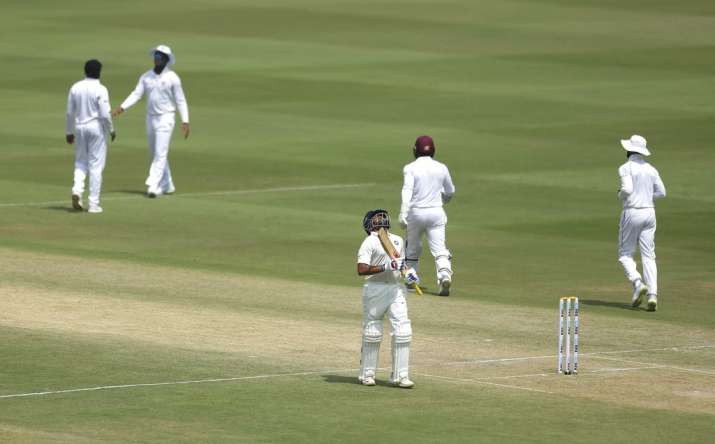 Team India's teenage sensation Prithvi Shaw has often been compared to Master Blaster Sachin Tendulkar, solely for the reason of having a knack for scoring runs. The way the 18-year-old plays, he takes the Indian fans back in time when Tendulkar used to rule the game of cricket.
Shaw was the man of the series in the two Tests that India won comfortably against West Indies as he notched up his maiden Test ton on his debut. His scores in the three innings of the two Test matches read 134, 70 and 33*.
While the day belonged to India after their emphatic win over Windies with the help of Umesh Yadav's 10-wicket haul, there was one such incident that raised many eyebrows. 
On Day 3 of the 2nd Test at Hyderabad, Shaw escaped an LBW appeal against Jason Holder when he ducked to a short ball that didn't bounce enough. The delivery hit Shaw on his upper arm and would have gone on to clip the wicket bails as the replay showed. 
However, England umpire Ian Gould negated the appeal by the Windies captain, after which they opted for a DRS (Decision Review System), which came out as Umpire's call. 
Had the umpire given Shaw out, the opener would have gone back to the pavilion.
A similar incident had happened with Tendulkar back in 1999 when India toured Australia. 
Tendulkar ducked a short-pitched delivery by Glenn McGrath, where the ball didn't rise as well, the point of impact being on his shoulder region. 
It was Australian umpire Daryl Harper, after a long thought, Tendulkar was adjudged out. There was a huge hue and cry made about the matter. Tendulkar had faced five deliveries and was dismissed for a duck. 
Tendulkar walked away without any protest, though the disappointment to walk back on a duck was visible. Take a look at the moment in Adelaide. 
West Indies were also robbed of a wicket, but they accepted the bitter truth in a calm manner, just like Tendulkar did 19 years ago.