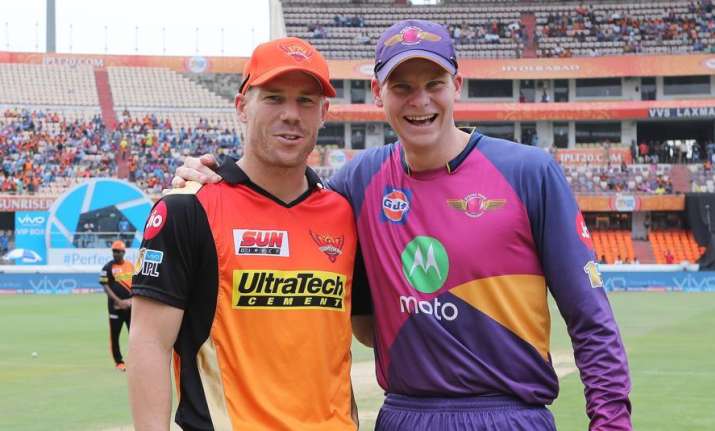 The ghost of ball-tampering scandal continues to haunt Steve Smith and David Warner as the Australian duo has been barred from playing in the upcoming Indian Premier League (IPL) 2018 by the IPL Commissioner Rajiv Shukla. Earlier, both Smith and Warner have stepped down from the captaincy of IPL franchises' -  Rajasthan Royals and Sunrisers Hyderabad respectively.
Cricket Australia have reportedly been handed a 12-month suspension to the former Australian skipper Steve Smith and vice-captain David Warner for their involvement in the ball-tampering scandal that took place during the third Test against South Africa in Cape Town.
"They (Cricket Australia) have banned two players and we are also barring these two players from this year's IPL," IPL chairman Rajeev Shukla.
"We wanted everything in our own hands. First, we waited for ICC's decision, after that Cricket Australia and then we decided on the matter.
"We have decided to bar them from this season. The replacements will be made available to the two teams. We did not take any decision in haste, it was a well thought out decision," he added.
Meanwhile, Cameron Bancroft, the third member found guilty in Cricket Australia's internal investigation and the player who actually tampered with the ball, has been imposed a suspension of nine months, cricket.com.au reported.
Ajinkya Rahane has replaced Steve Smith as the captain of Rajasthan Royals, whereas, Sunrisers Hyderabad are yet to name their new skipper.
Later, the world's richest cricket board (BCCI) said in a statement - "The Committee of Administrators (CoA) on Wednesday took cognizance of the developments in the ball tampering incident involving Cricket Australia contracted cricketers – Mr Steve Smith, Mr David Warner and Mr Cameron Bancroft."
"The CoA, in consultation with BCCI Acting President Mr CK Khanna, IPL Chairman Mr Rajeev Shukla and BCCI Acting Hon. Secretary Mr Amitabh Choudhary, has decided to ban Mr Smith and Mr Warner with immediate effect from participation in IPL 2018."
"The BCCI hopes that the cricketers participating in the IPL hold the highest regard for the Spirit of Cricket and Code of Conduct for Players and Match Officials.
"The concerned IPL franchises will be allowed replacement players."