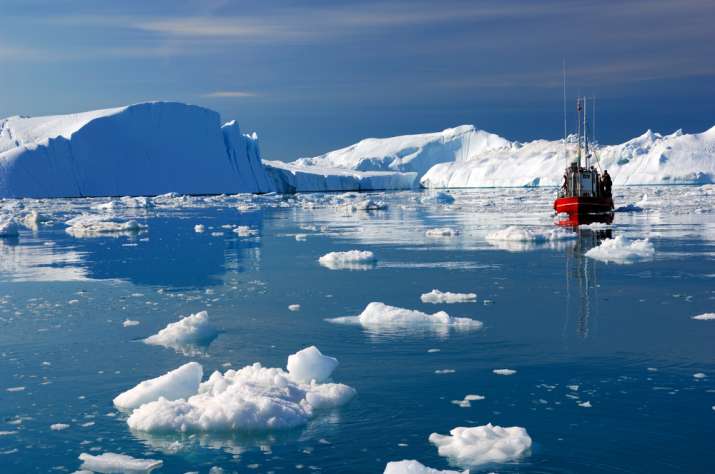 In an alarming revelation, measurements of sea ice in the Arctic region at the end of summer show the ice cap at 4.64 million square kilometres, the eighth lowest in the consistent long-term satellite record, which began in 1978. 
The alarming extent of the Arctic sea ice, the layer of frozen seawater covering much of the Arctic Ocean and neighbouring seas, which is often referred to as the planet's air conditioner, is a result of the climate change which is pushing temperatures up most rapidly in the polar regions. 
Summer melt season is the time when it reaches its lowest area for the year, before it starts to grow again as winter approaches.
Its minimum summertime extent, which typically occurs in September, has been decreasing, overall, at a rapid pace since the late 1970s due to warming temperatures.
In 2017, temperatures in the Arctic have been relatively moderate for such high latitudes, even cooler than average in some regions, NASA said.
Still, the 2017 minimum sea ice extent is 1.58 million square kilometers below the 1981-2010 average minimum extent, showed the analysis by NASA and the NASA-supported National Snow and Ice Data Center (NSIDC) at the University of Colorado Boulder.
Conservationists warned that in the last 30 years, the summer minimum ice extent has shrunk by an area roughly equivalent to a quarter the size of Europe and the Arctic could be virtually free of ice in summer within people's lifetimes. 
The last five melting seasons have been worse for the Arctic. The Arctic hit its lowest extents in 2012, 2016, and 2007, when unusual weather conditions broke up the ice and sped up its melt.
Antarctica, on the other hand, is moving into its maximum yearly sea ice extent.
After a record high streak from 2012-2013, Antarctica saw dramatic lows in both 2015 and 2016.
This typically takes place in September or early October – but, experts expect the maximum to be among the five lowest in the satellite record.