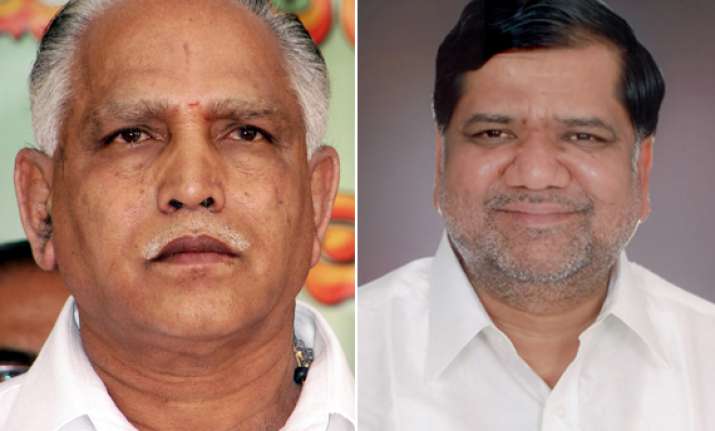 Haveri (Karnataka), Dec 9: Former Karnataka chief minister B.S. Yeddyurappa Sunday dared incumbent Jagadish Shettar to resign and dissolve the legislative assembly to pave way for an early election, which is otherwise due in April/May 2013.
"I challenge Shettar to prove majority in the assembly without the support of my loyalist ministers and legislators. Let him take action against them if he has guts. Otherwise, he should resign and dissolve the assembly for holding elections early," thundered Yeddyurappa at a mammoth public rally held to launch the Karnataka Janata Party (KJP) here, about 350 km from Bangalore.
Taking over as president of the new regional party in the run-up to the assembly election, Yeddyurappa warned the ruling Bharatiya Janata Party (BJP) against taking disciplinary action against 14-18 of its lawmakers, including half-a-dozen cabinet ministers who participated in the rally and were present on the dais in a show of strength for him.
"I just got information that action will be taken against the 14-18 legislators present on the dais. In that case, I tell Shettar that you do not have a majority and hence quit immediately," Yeddyurappa said in a raised voice, which was cheered by the crowds.
BJP state unit president K.S. Eshwarappa had Saturday warned the loyalists, including 10 cabinet ministers and over a score of party legislators of strict action if they participated in Yeddyurappa's Haveri rally and shared the dais with him. Even attending breakfast meeting with the former chief minister would be considered as an anti-party activity.
"Shettar should know that he is in the chief minister's seat because of my loyalists and that the BJP government is surviving with the support of my loyalists. About 50-60 legislators are ready to quit and join my new party.
"But I told them not to do so and precipitate political crisis in the state as assembly election is due in the next four-five months," Yeddyurappa asserted.
Ignoring Eshwarappa's diktat, six cabinet ministers and over a dozen party legislators drove to Haveri from Belgaum in north Karnataka for a breakfast meeting with Yeddyurappa at his friend's house and stayed back to participate in the rally post-noon.
The ministers were C.M. Udasi (public works), Basavaraj Bommai (water resources), Murugesh Nirani (major industries), M.P. Renukacharya (excise), Revu Naik Belamagi (animal husbandry) and Shobha Karandlaje (power).
"Shettar and Eshwarappa (also deputy chief minister) should know that they are running a coalition government of BJP and KJP as more than 50 percent of their party legislators are with me and ready to join the regional party anytime. They will not be in power even for a day without my support," claimed the 69-year-old Yeddyurappa.
The BJP has 118 members, including assembly Speaker (K.G. Bopaiah) in the 225-member legislative assembly and 44 in the 75-member legislative council.
The Shettar cabinet is 34-strong, including him.
The open defiance by the ministers and legislators came a day after state Infrastructure Minister Sunil Valyapure resigned from the Shettar cabinet hours after the BJP sacked Cooperation Minister B.J. Puttaswamy and suspended its Tumkur Lok Sabha member G.S. Basavaraj from the party for backing Yeddyurappa.
Shettar, however, remained unfazed. He told reporters in Bangalore that his government had the majority.
"There is no question of dissolving the assembly. We have the support of 120 legislators. Am told only 10-12 MLAs (legislators) attended the KJP convention. We are ready to prove our majority in the assembly, which is in the seven-day winter session at Belgaum," Shettar said reacting to Yeddyurappa's ultimatum.
Shettar also said he had not received Valyapure's resignation so far.