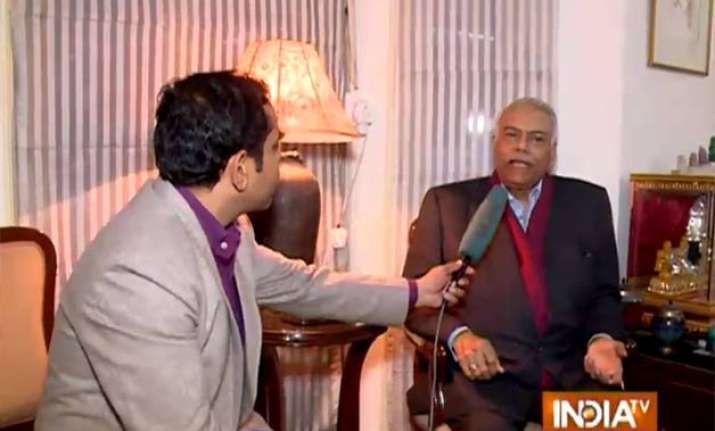 New Delhi: External Affairs Minister Sushma Swaraj's Pakistan visit has not gone down well within the BJP itself with several senior party leaders speaking against the move. Former Union Minister and senior party leader Yashwant Sinha has questioned the government's strategy on dealing with Pakistan.
In an exclusive interview to India TV, Sinha expressed serious objections over government's decision to resume talks with Pakistan.
Reminding Prime Minister Narendra Modi and Sushma Swaraj of their stands against Pakistan before 2014 general elections, Sinha said, "Even Modi ji once said our word of peace would get lost amid the sound of bullet. Shushmaji had said that we will cut off 10 heads if one of our army person is beheaded. What happened today? Why this sudden change? "
Sinha, who was the External Affairs Minister from mid-2002 to the end of the BJP-led government's tenure in 2004, said the government needs to explain to the country why it is resuming the dialogue with Pakistan.
"Terrorist attacks are still going on and India itself says that Pakistan is behind these acts of terror. So what is the point in resuming talks? The government owes it to the people of this country to explain why they are resuming the dialogue," he said.
Though Sinha is convinced that people leading the government have a lot of experience, he said  that the way they are dealing with Pakistan has left him hopeless.
Everyone including Parliamentarians and diplomats are waiting for Shushma Swaraj to explain, the rationale behind the sudden U-turn of government stand vis-a-vis resumption of dialogue with Pakistan.
Sushma Swaraj is expected to give his statement in the Parliament on Dec 14.
India and Pakistan have agreed to resume the peace dialogue process through what will now be termed as the 'Comprehensive Bilateral Dialogue'. Swaraj met with Pakistan Prime Minister Nawaz Sharif and his advisor on Foreign Affairs Sartaj Aziz on her two-day visit to Islamabad.
Watch full video of interview here: