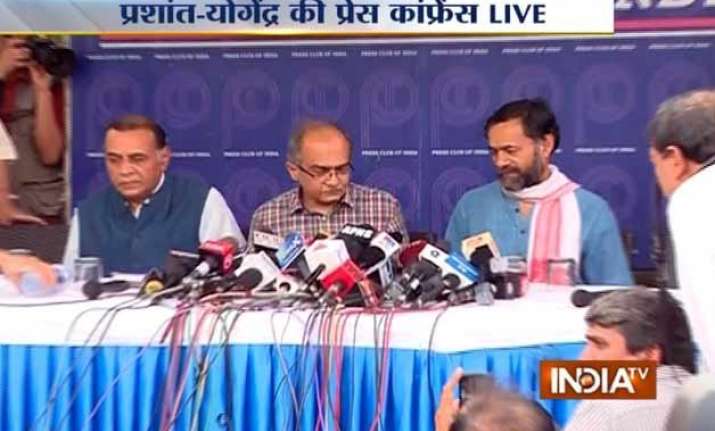 New Delhi: The dissident leaders of AAP, Yogendra Yadav and Prashant Bhushan , today accused Kejriwal faction of spreading lies in the media and wondered if the party is on the way to become just like any other party.
Addressing a press conference in New Delhi today,  Prashant Bhushan alleged that Kejriwal even threatened to split AAP with his 67 MLAs if he and Yadav did not resign from Nation Executive of the party saying "he cannot work with us".
Yogendra Yadav said that he was surprised to note that Kejriwal camp linked everything with their resignation.
Yadav said that neither he nor Bhushan ever raised the demand of resignation of Arvind Kejriwal from National Convener's post.
Yogendra and Bhushgan stuck to their 5-point demand that included autonomy for state units, party Lokpal to investigate allegations leveled against the party, party volunteers to be included in decision making, transparency in party funding and bringing it under RTI and filling the vacancy in NE through secret ballot.
Yogendra Yadav said that they had asked for implementation of these demands and had offered to resign if these were conceded by Kejriwal camp.
Both Yadav and Bhushan accused Kejriwal camp of spreading lies and  insisted that they had never resigned. They challenged Kejriwal faction to produce their resignation letters to prove their claims.
"Will AAP become just like any other political party?" asked Yogendra Yadav.
Yadav said that he is of the firm opinion that AAP should not follow other parties like BJP and Congress  who take whimsical opinions and do not listen to their workers.
The attack on Kejriwal by the two founding members of the party came a day before the crucial meeting of AAP's National Council which is likely to deliberate on the fate of Bhushan and Yadav and other major issues.  
Yadav said that at least four allegations leveled against the party, which are serious in nature, should be thoroghly investigated by the internal Lokpal of the party.
" The four allegations are - Rs 2 crore donation to the party, recovery of liquor from party candidate's premises, fake certificate of Delhi Law minister and alleged attempt by AAP  to form govt by splitting Congress." added Yadav.
The two leaders said they will quit all "executive posts" if the five demands they had placed before the leadership which include bringing the party under the ambit of the RTI Act, ordering probe by AAP's internal Lokpal into allegations of wrong doing and giving state units more autonomy, are met.
"We had sent a note to the party placing our demands which is now being shown as our resignation letter. Whereas it was a conditional letter to resign. We had said if our five demands are met, we will resign from all party posts," Yadav said.
The two leaders said they were repeatedly being pressurised to resign during the reconciliation talks and clarified that they never raised the issue of the post of party convenorship during the talks.
"Why is it that if we raise any question, our intent is questioned?" Yadav asked, adding their fight is not for personal gains but to restore AAP's founding principles.
Yadav also alleged that the party Constitution has been removed from AAP's official website.
"If our demands are met, we will resign from all executive posts," said Prashant Bhushan.
Prashant Bhushan said that differences cropped up just after Lok Sabha elections when Kejriwal tried to form govt with 6 MLAs of Congress parties.
"I opposed it saying it was unethical but Kejriwal sent a letter to LG in this regard despite the fact that we had filed a PIL in SC for dissolution of Assembly," added Bhushan.
Prof Anand Kumar and Ajeet Jha were also present in the press conference and supported the stand taken by Yogendra Yadav and Prashant Bhushan.