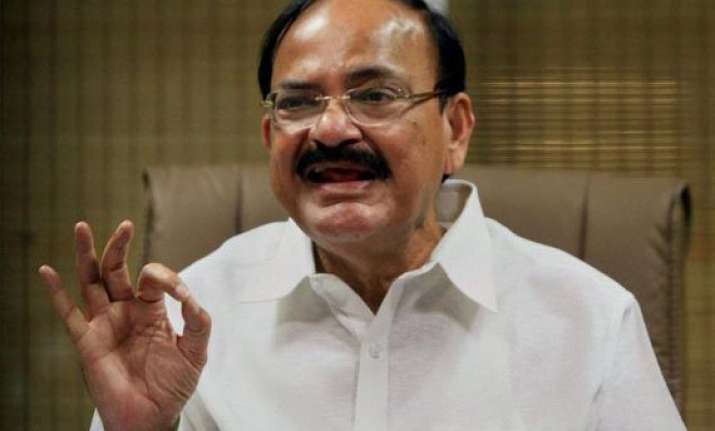 Hyderabad: Taking exception to Congress president Sonia Gandhi's reported attack on NDA government on the issue of black money, Union Minister M Venkaiah Naidu asked what her party did on the matter when it was in power.  
"I am putting a straight question to the Congress president. If it is so easy and simple to bring back the black money in 60 days of coming to power, what is it you have done in the 60 years, when you have been in power. Absolute power.  
You have no answer. Your government is responsible for all the ills that are plaguing the nation. This government is trying its best to set right the matters," Naidu told reporters here.  
Asked about opposition's criticism of the live telecast of RSS Chief Mohan Bhagwat's address on Doordarshan, he said the criticism is "absurd" and complimented the national broadcaster for showing the address live.  
"RSS chief's Vijaya Dasami address, which is historic, has been live telecast by many channels, including Doordarshan.
I don't know why people are making controversy.  There are people who are making live telecast of so many things. Then, a patriotic organisation, a nationalistic organisation, chief of RSS addressed a historic Dasara rally.  It is telecast live," he said.
"Doordarshan has done a good thing. I compliment them, they have not been doing for a variety of reasons. I saw absurd and meaningless criticism by some people," the senior BJP leader said.
Asked about reports of BJP being in touch with Tamil superstar Rajinikanth for his joining the party, he said it is being reported in newspapers.
"We are in touch saying, participate in 'Swachh Bharat Abhiyan'," he said.
Talking about the cleanliness campaign, he said icons in different fields like cinema and sports are being roped in to participate in the mission.