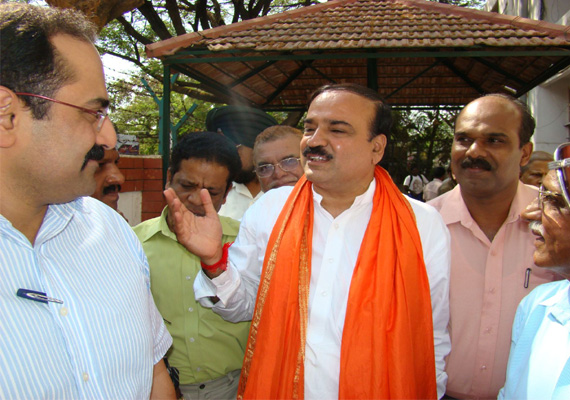 New York, Jul 28: The BJP today said that next year's Lok Sabha elections will be a watershed for the party and claimed that a 1977-like mood will dislodge the UPA dispensation.
Ananth Kumar, national general secretary of the BJP, also claimed that his party will get an absolute majority in the elections.
"The mood in India is like that of 1977 when the country faced the elections after the imposition of emergency... Voters wanted Indira Gandhi to go and did not give a fractured mandate but a clear majority to Janata Party that was unprecedented in many ways since Independence," he told PTI.
"We will get an absolute majority," he said, adding that the BJP's slogan in the ensuing election will be Congress Muktha Bharat (Free India from Congress).
"We are requesting the people to compare (Atal Bihari) Vajpayee government's track record with that of Manmohan Singh's and come to a clear decision. The basic issue before the nation is one is good governance and development. India witnessed a golden era for six years under Atalji's dispensation but in the last nine years Congress and UPA has taken from good governance to Dark Age," he said.
Kumar said that under Atalji's tenure there was an eight per cent growth rate and we kept inflation down at three per cent. Economy was robust and vibrant due to visionary leadership of Vajpayee. But due to wrong policies, Manmohan Singh and his team have taken the country to pre-1991 days where we had almost forced to mortgage our gold reserves putting India to shame in the comity of nations, he said.
"All the three in-house economists India has ever produced - Manmohan Singh, P Chidambaram and Montek Singh Ahluwalia – are responsible for nation's current financial mess and should own the responsibility," he said.
Asked about Narendra Modi, Kumar said the Gujarat chief minister is now the new rock star and is viewed as a friend of youth and college students.
"Youth power can't be underestimated and now they have become very strong and understand Indian politics. People in the age group of 18-25 will decide the fate of India and they are all admirers of Modi and demand a change," he said.
On alliance, he said it's a crusade against Congress and also crusade against corruption and gross abuse of power given by the electorate.
"We expect like minded parties to support us. In any case there are possibilities for post-poll alliance like the one Atalji formed NDA in the center," he said.