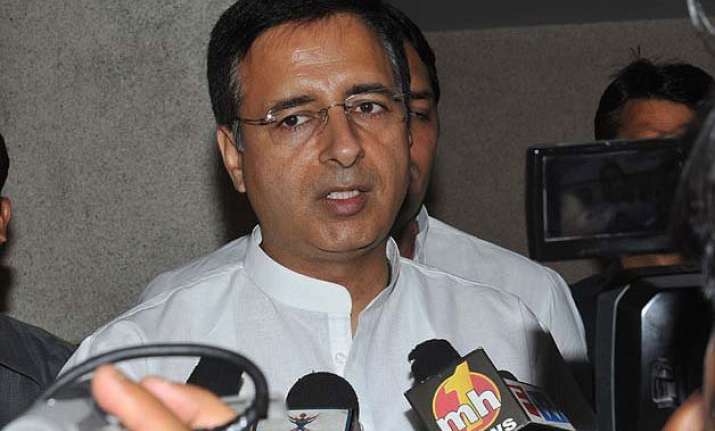 New Delhi: Congress today dismissed MP Chief Minister Shivraj Singh Chouhan's decision to request the High Court to conduct a CBI inquiry into the Vyapam scam, insisting that a Supreme Court-monitored CBI probe could alone ensure a "fair" investigation.
"Latest decision of Shivraj to write to High Court for CBI probe is another attempt to muzzle the truth. Congress rejects it in toto.
For a fair probe and justice to victims, Supreme Court-monitored CBI probe is the answer," party's communication department chief Randeep Surjewala said.  "Time BJP owned up to truth instead of putting repeated roadblocks of lame duck excuses", he said. 
Accusing Chouhan and the BJP leadership of "hoodwinking the truth and attempting to derail investigation", he said the Chief Minister had earlier rejected a SC-monitored CBI probe into the 49 deaths.
"Finance Minister Arun Jaitley asks for an independent probe. Ms Uma Bharti says she fears for life of her supporters. STF chief Chandresh Bhushan says STF officers have concern for their own security", he noted.  The Congress leader charged that all of this was "classic BJP doublespeak to quieten and muddle the truth".  
Congress leader Digvijay Singh criticised the Prime Minister's silence on the issue.
"The Prime Minister remains mum in the country, he only tweets about what is happening in Tunisia, Algeria," he said.  
Singh, who has filed a petition in the Supreme Court seeking a CBI probe in the scam, said he would request the apex court to monitor the probe on a weekly basis as it monitored the 2G scam.
Asked whether the Chief Minister should resign, Singh said if Chouhan was in the Congress party, he would have been removed long back.
"Moral standards of Congress and BJP are different," he stated.Replying to a question, he said the "needle of suspicion" was on the chief minister.
The Congress reaction came after Chouhan, bowing topublic outcry, said that he will request the high court to order a CBI probe into the Vyapam case, including the large number of deaths of people allegedly linked to the scam.

Chouhan, who has been under opposition attack, said people wanted to know the truth and it had become imperative that the case be probed by CBI now to put to rest all doubts.  
The opposition has alleged that nearly 50 people having links with the Vyapam admission and recruitment scam have died since the investigation into the scandal began in July 2013.  
At least five persons, including a journalist covering the scam, have died under mysterious circumstances in last one week.
Congress has been demanding sacking of Chauhan and has been insisting that a fair probe is not possible with him at the helm.
Troubles mounted for Chouhan yesterday over Vyapam scam after a woman trainee sub-inspector recruited by the state board was found dead in a lake, triggering demands from Congress for his immediate sacking and an impartial probe.