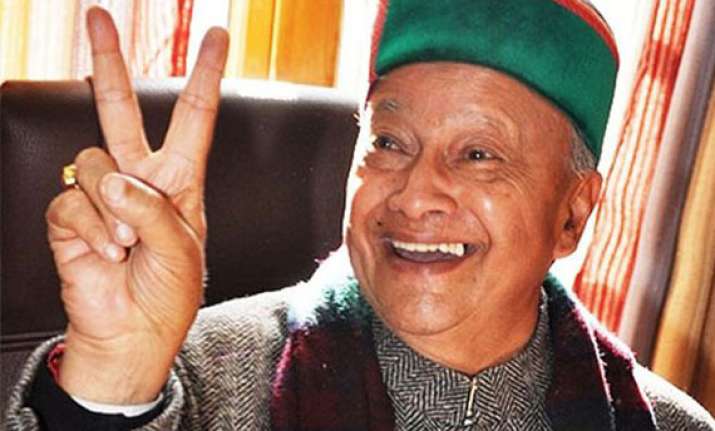 Shimla, Dec 25: Virbhadra Singh, credited for bringing Congress back to power in the Assembly polls defeating BJP, today took oath as Himachal Pradesh Chief Minister for a record sixth time, heading a ten-member ministry that included six of his loyalists. 
Among the Cabinet ministers, who took oath, were senior Congress leaders Vidya Stokes, Kaul Singh Thakur and G S Bali, who are considered Singh's detractors, while Sujan Singh Pathania, Thakur Singh Bharmauri, Mukesh Agnihotri, Sudhir Sharma, Prakash Chowdhary and Dhani Ram Shandil are from the Chief Minister's camp.
Thakur and Bali are stated to be confidants of Union Minister Anand Sharma, who is another power centre in the Himachal politics and is considered close to the central leadership of Congress.
A journalist-turned politician, Mukesh Agnihotri had been a functionary of Youth Congress while Sudhir Sharma had been active during the visits of Rahul Gandhi to the state. 
Congress, which wrested power from BJP, has 36 MLAs in the 68-member Assembly and one independent MLA has extended unconditional support to the party.
With ten ministers including the 78-year-old Chief Minister taking oath, there are two more vacancies in the state Cabinet.
Singh, who has held the top office in Himachal five times in the past, was administered the oath of office and secrecy by Governor Urmilla Singh at an open ceremony at the historic Ridge Maidan here.
A large crowd had turned up for the function which was held outside the Raj Bhawan for the third time in the history of the state.
The new Council of Ministers has three members from Kangra from where Congress won ten out of fifteen seats, two from Shimla district, two from Mandi and one each from Chamba, Una and Solan districts.
The ministry was finalised after Singh held consultations with Congress President Sonia Gandhi in Delhi yesterday, sources said. Singh was formally elected as the leader of the Congress Legislature Party in Shimla on Saturday.  Singh was Chief Minister between 1983 and 1985; 1985 and 1990; 1993 and 1998 and 2003 and 2007. 
In his five-decade-long political innings, he has been a seven-time MLA and a five-time MP. He has also been a four-time President of the Himachal chapter of Congress and also represents the Mandi seat in the present Lok Sabha. 
Singh had a detailed meeting with AICC General Secretary Janardan Dwivedi, who was deputed as observer by the party high command for Congress Legislature Party (CLP) meet, on Saturday evening in Shimla and discussed several key issues relating to government formation.
In a major relief to Singh, a court here yesterday acquitted him of charges of corruption and conspiracy in the much-publicised audio CD case.
While Congress won in Himachal Pradesh, it faced defeat in Narendra Modi-ruled Gujarat. The victory in Himachal came for Congress at a time when the ruling dispensation at the Centre is battered by one controversy after another. 
An indication to Virbhadra Singh's clout in Himachal Pradesh politics was evident, when he was made the Chairman of Congress' campaign committee for Himachal ahead of the Assembly polls only days after he had resigned from the Union Cabinet following framing of charges against him in the CD case.
Singh was earlier made a member in the Manifesto Committee of the party chaired by his bete noire Anand Sharma.  There were reports that Singh had threatened to quit the party and join NCP if somebody else was projected as Congress' Chief Ministerial candidate, a speculation later denied by the party veteran.
As soon as electioneering picked up in the state, AICC leaders had made it very clear that the party's face for the Himachal elections was Singh. After the election results were out, senior Congress leaders had said that there would be "no surprise candidate", maintaining that the choice in Himachal Pradesh was "obvious".