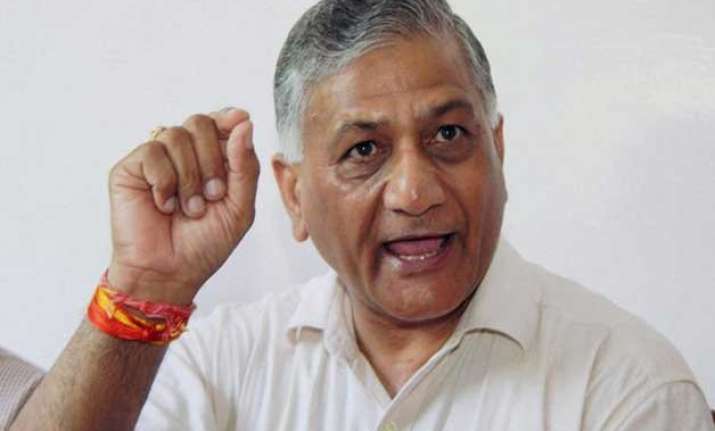 Itanagar: Union Minister of state for External Affairs V K Singh today favoured India matching its steps with China's economic strength while developing and protecting its borders for security.
He was addressing a two-day national seminar on 'Voice from Arunachal Pradesh - India China Border problems and related Arunachal folklore' at Rajiv Gandhi University here.  "I am not hinting at a war. But the borders have to be developed and protected for security and a resurgent India has to resolve all issues for which groups have been constituted," Singh said terming it as his personal opinion.  
"China is a great economic strength far ahead of India.  Its forward-looking leaders has given Beijing the negotiating strength to engage the world in different perspective. China has recognized the MacMahon line in Myanmar but not In India," Singh, a former Army chief, reasoned.  
Earlier, Chief Minister Nabam Tuki described the sensitive border state as an integral part of India whose holistic development began after announcement of a huge economic package by the then Prime Minister in January, 2008 to make it a front-ranking state.
He hoped the seminar would highlight the real issues to draw the right attention.
The seminar is organized by Kolkata-based Research Centre for Eastern and North Eastern Regional Studies, (CENERS-K) supported by state government, New Delhi-based Indian Council for World Affairs, Oil India Ltd and the Indian Army.
RGU Vice Chancellor Prof Tamo Mibang, CENERS-K Executive Director Maj Gen (Retd) Arun Roye, spoke on the occasion while former Ambassador to China, C Dasgupta spoke about the changed stance since 1960s.
Speaking on the present situation, Lt Gen (Retd) B S Jaswal highlighted the present border situation vis-a-vis reluctant China policy that would dictate the future course.  
A host of dignitaries, including Deputy Speaker T Norbu Thongdok, Sahitya Academy awardee Y D Thongchi, senior retired military officers, bureaucrats and academicians were present on the occasion.