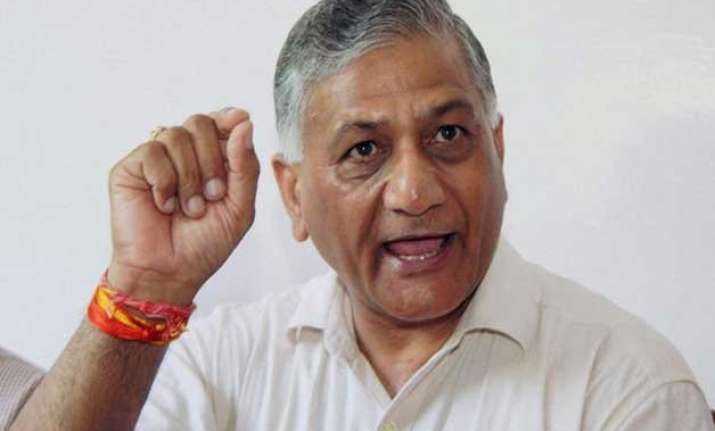 New Delhi: Minister of State for External Affairs V K Singh has landed himself in another controversy over his remarks dubbing newsmen as "presstitutes", evoking strong reaction today from a media association and the Opposition which demanded that he be "dismissed".
Singh, who is currently in Djibouti to oversee evacuation of Indians from Yemen, had yesterday compared the rescue operation from the war-torn country with his visit to the Pakistani mission recently, saying the evacuation was "less exciting". However, he later made snide remarks against a TV channel for playing up his comparison remarks.  
"Friends what do you you expect from presstitutes," he said in a tweet late last night adding that last time the TV anchor thought there was 'O' in place of 'E'.
His remarks elicited sharp reactions from political parties as well as a media body.
Congress' spokesperson Abhishek Singhvi said this is an "extreme situation" which "shows the utter intolerance, the incapacity to hear dissent and criticism of oneself".
According to former Union minister Manish Tewari, what Singh has said was "completely reprehensible" and needs to be condemned in strongest possible terms. "It's an assault on the freedom of the press," he said, demanding his dismissal as minister.
Condemning the remarks, Broadcast Editors Association (BEA) said it was "lowering" the image of the government as Singh has been making comments, which are beyond the "normal behavioural decency".
General Secretary of BEA N K Singh said that he was surprised that a Union minister could use such words for a democratic institution of the country.
"Can there be a person in the Union Cabinet, who can use such words for an institution? BEA not only condemns it but also expects that the Prime Minister puts a check on such ministers. This is not only damaging democracy but also hurting his own image," he said.