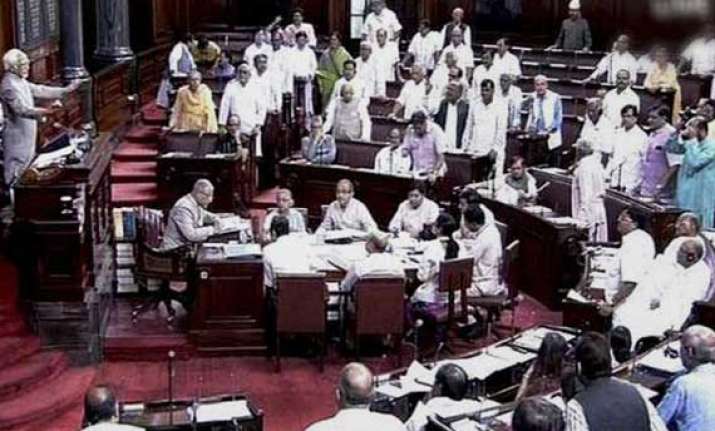 New Delhi: For the second consecutive day, the reported meeting of a journalist considered close to RSS with 26/11 mastermind Hafiz Saeed disrupted proceedings in Rajya Sabha today, leading to two adjournments during Question Hour.
Opposition Congress was joined by members of SP and BSP in raising the issue of the journalist meeting with India's most wanted terrorist earlier this month.
Chairman Hamid Ansari said this issue was raised yesterday and the government has already replied.
Satyavrat Chaturvedi (Cong) said new facts have come to light since yesterday and the government must inform the country as to who facilitated the meeting and what was the Indian High Commission doing.
Ansari asked members to allow Question Hour to be taken up as Opposition raised slogans demanding arrest of the scribe.
"This is not fair," Ansari remarked before adjourning the House for 15 minutes.
When the House reassembled, similar scenes were witnessed with slogan-shouting opposition members moving to the aisles.
Ansari took up the first listed question and pleaded, "Please allow Question Hour to run."
With members not heeding to his pleas, Ansari adjourned the House till noon.
Reports said Ved Pratap Vaidik, a freelance journalist, had met the Jamaat-ud-Dawa chief in Lahore on July 2 while touring Pakistan along with a group of journalists and politicians invited by a peace research institute.
India accuses Saeed, the founder of Pakistan-based terror outfit Lashkar-e-Taiba, of plotting a series of strikes in India including the 2008 Mumbai attacks in which 166 people were killed.