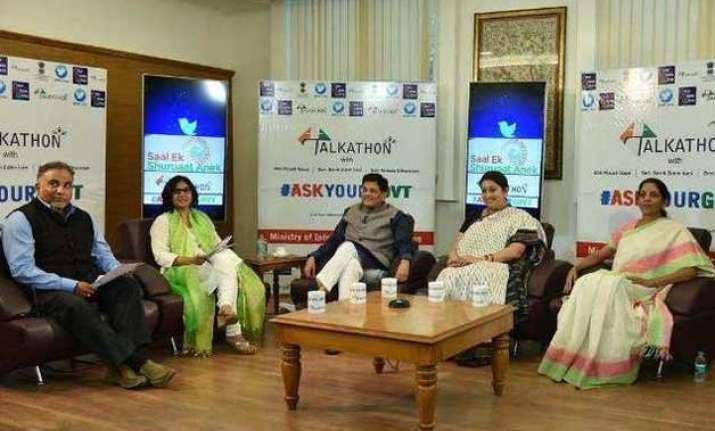 New Delhi: Ahead of the RBI's monetary policy review, the government today "strongly" pushed for interest rate cut saying availability of affordable credit was necessary to boost manufacturing.
"We are working with the the RBI. The RBI has successfully managed the inflation... It is being bit cautious on interest rates. So I hope credit is available in India at an affordable rate because internationally credit is absolutely cheap.
"Even if it is not cheap credit, I would strongly push for an affordable credit available for Indian industry only then the revival be (happen)," Commerce and Industry Minister Nirmala Sitharaman said.
The Minister was speaking during the 90-minute Talkathon.
In a live programme 'Talkathon', organised by the information and broadcasting ministry, Human Resource Development Minister Smriti Irani and Coal and Power Minister Piyush Goyal along with Sitharaman interacted with netizens.
Modi doesn t believe in quick fix solutions: Goyal
Mr. Goyal said Prime Minister Narendra Modi doesn't believe in "quick-fix populist" measures and was laying the foundation for a strong India.
"He (Modi) does not believe in quick—fix, populist measures. He is laying the foundation on which skyscrapers will be built for generations to come. A lot of work will be done in the future," Mr.Goyal said.
"Today the world looks at India with confidence as a safe investment destination, to come to work in, to do business, to come as a tourist. We have brought back the original confidence which was there ten years ago," he added.
E Library, Swayam portal to help achieve zero illiteracy: Irani
"India is making significant changes in the next six months. The first mega project is the national e—library wherein the IITs (Indian Institute of Technology), IIMs (Indian Institute of Management), NCERT (National Council for Educational Research and Training) and also the National Archives will be pooled in," Human resource development minister Smriti Irani said.
"On one platform, maximum education resources will be provided. Even the Saarc (South Asian Association for Regional Cooperation) nations have asked us to extend these resources to them and we are doing it," she said.
Ms. Irani said that providing quality higher education was a challenge and therefore the government was on the verge of starting the "Study Webs of Active—Learning for Young Aspiring Minds" (Swayam) online portal that will bring together IIT, IIM, CBSE, NIOS, and other institutes to provide free, quality education to classes 9 to 12.
"Education will be provided free and exams can be given at any of the 500 earmarked centres that will come up all over the country. Degrees and diplomas will be given if you pass the exam," Irani said.