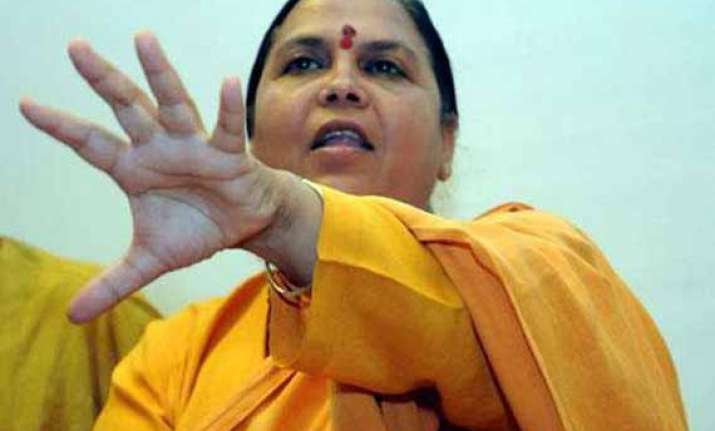 Jhansi: Charges of rioting and promoting enmity between different groups in Ayodhya are among the 13 cases pending against firebrand BJP leader and former Madhya Pradesh Chief Minister Uma Bharti, the party's candidate for this Lok Sabha seat.
As to her financial status, Bharti has declared assets worth Rs 1.43 crore -- movable property of Rs 46.26 lakh and immovable assets worth Rs 97.50 lakh. She has declared cash in hand of Rs 2.5 lakh in her affidavit filed with the Election Commission while submitting her nomination papers.
Her affidavit states that she does not own a car or any other vehicle.
Bharti, who is also a former union minister, was named in an FIR registered in 1992 at the Ram Janmabhoomi Ayodhya police station in Uttar Pradesh's Faizabad district, according to the affidavit.
The 55-year-old Bharti is facing charges under Sections 147 (rioting), 149 (unlawful assembly), 153A (promoting enmity between different groups), 153B (imputations, assertions prejudicial to national integration) and 505 (statements intended to cause public mischief) of the Indian Penal Code.