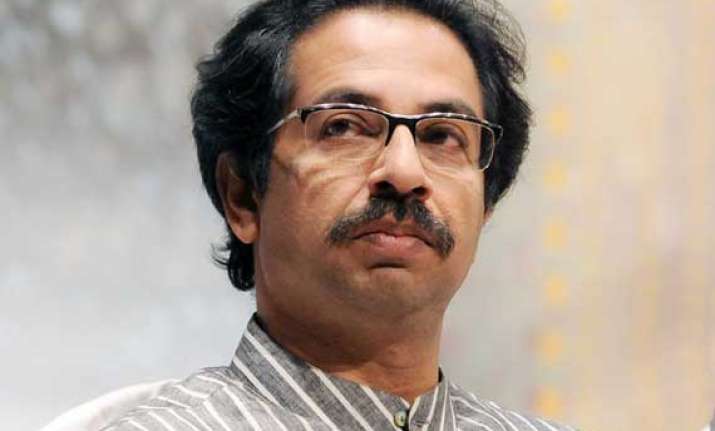 Thane: In a fresh snub to his bete noire and Congress leader Narayan Rane, Shiv Sena president Uddhav Thackeray today said those who had troubled party supremo Bal Thackeray in his lifetime are not welcome in the party.
"Those Shiv Sainiks who have realised their mistakes and want to return to the Sena-fold are welcome but not those who had troubled Balasaheb," Uddhav said in an apparent reference to senior Congress leader Narayan Rane, a former Shiv Sainik who resigned as state Industries Minister today.
His remarks came on a day when speculation mounted as to the future political course of Rane who resigned from Maharashtra ministry.
Addressing a "vijay sankalp" meeting at an auditorium here, Uddhav appealed to Sena cadres to build a strong network and also utilise the social media to ensure the victory of NDA in coming assembly elections.
Picking up the famous catchline of Prime Minister Narendra Modi, Uddhav said "good days are ahead in Maharashtra" and claimed there is a strong saffron wave sweeping the state.
"The state under Congress-NCP combine has been undergoing a terrible phase on all fronts like power, water, law and order etc. In Lok Sabha elections, we fought with our own men who had crossed over to other parties and showed them their place," he said.
In his speech, Uddhav said (late) journalist Khushwant Singh had once asked Congress vice-president Rahul Gandhi to build the party on the lines of Shiv Sena which is a cadre-based organisation.
In a veiled attack on NCP, he said any party cannot be built merely by "poaching" leaders from other parties.
On the occasion, hundreds of NCP workers from Ulhasnagar in the district joined Sena, along with a local MNS leader.
In his speech, Yuva Sena chief Aditya Thackeray asked the party workers not to rest on the laurels of victory in Lok Sabha polls.
He later told reporters that he did not give much importance to Rane because there are many important issues facing the state.
"Thane has become a den of terrorist activities which is proved by recent case of four local youths going to Iraq to fight as jihadis.
The state government has miserably failed to put a leash on these activities.
The case of Ishrat Jehan (a resident of Mumbra who had been killed in Gujarat allegedly in a staged encounter along with her accomplices) also points to this," he added.