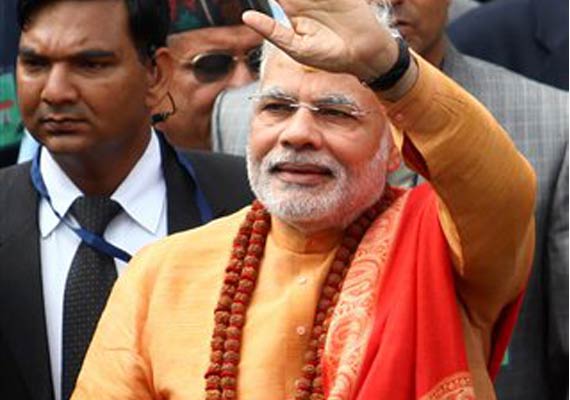 New Delhi: Returning from Nepal after "two memorable days", Prime Minister Narendra Modi tonight said the foundation has been laid for "a new relationship" and vowed to leave no stone unturned in translating "our vision into reality" and "our commitments into action".
He said he would be returning to Nepal, which felt like "home" to him, in November to visit other places and for "a more sustained process of political engagement" between the two countries.
In a statement issued after his arrival here, Modi said the "extraordinary warmth and affection" he got in Nepal from the government, political parties, officials, security personnel and the people had "moved me and added another dimension to my personal relationship" with the country.
"I have just returned to Delhi after two memorable days in Kathmandu.
I want to thank President Ram Baran Yadavji, Prime Minister Sushil Koiralaji, the Government of Nepal, all the political parties, officials, security personnel and, above all, the people of Nepal for the extraordinary warmth and affection with which I was welcomed in Nepal," he said.
"I believe that together we have laid the foundation for a new relationship between our two countries, which will draw strength from our deep ancient links and prepare us to together address the opportunities and challenges of the 21st century," Modi said.
The Prime Minister, who made a number of promises to Nepal to shoulder it in economic progress, vowed "I will leave no stone unturned to translate our vision into reality, and our commitments into action."
Modi said he felt deeply honoured with the privilege to speak to the members of the Constituent Assembly of Nepal.
"During my two-day visit, I felt the strong urge for political stability and economic prosperity in everyone I met in Nepal.
"I am confident that Nepal, rich in resources, talent and diversity, will quickly carve out its destiny as a stable, inclusive and prosperous nation that will be a source of pride for South Asia and an inspiration for others around the world," he added.
The Prime Minister donated 2,500 kgs of sandalwood to Pashupatinath temple. India also promised to provide assistance for restoration and renovation of the temple. For this 25 crores will be provided. ASI will begin work soon.  
India also offered assistance for development of Janakpur, Baraha Chhetra and Lumbini, including linking Lumbini with the Buddhist circuit of India, based on specific proposals from government of Nepal, the MEA spokesman said.
India also offered short courses-cum-exposure visits for the Nepalese undergraduate students in the leading universities of India namely Banaras, Kolkata and Delhi University under Nepal-Bharat Maitri Shiksha Karyakram.  
With regard to Modi's offer of expertise in the agriculture sector, Abhay Thakur, Joint Secretary (North) in MEA, said a Joint Working Group on the issue will meet soon to take it forward.
Some Nepalese leaders like Baburam Battarai of Communist Party of Nepal (Maoist) voiced concern over delays in implementing projects.
Modi promised that this aspect would be addressed, the spokesman said.
When the Prime Minister made it clear that he was aware of all issues, the Nepalese leaders were "surprised by the depth of knowledge" he had about the issues, Akbaruddin said.
At this, Modi told them that the way he had "surprised" them by his knowledge, he would similarly do so on implementation also